« McCain & the Gang of 14
|
Main
|
Bang: *Another* Poll Shows Romney Ahead In Florida »
January 23, 2008
ROLLercoaSTER: Stocks Gain Over 600 Points From Early Low Point to Finish Up 300
From down around 320 to up, at day's end, 299.something-something.
Wall Street pulled off a stunning comeback Wednesday, surging higher in late trading and wiping out what looked to be yet another precipitous decline. The Dow Jones industrials, down more than 323 points in earlier trading, ended the day with an advance of just under 300 points, according to preliminary calculations.

While such volatility has become a hallmark of Wall Street's performance in recent months amid the ongoing housing and credit crisis, analysts saw some positive signs in the day's trading.

"There does come a point and time when the market itself recognizes that it got out of hand, and that is when bargain-hunters can come in," said Peter Cardillo, chief market economist at Avalon Partners.

The Fed's decision Tuesday to lower its federal funds rate by 0.75 percentage point to 3.5 percent has been met with some skepticism, but it gave intrepid investors Wednesday a reason to buy the severely dented stocks in the financial sector.

"You might say this is a belated reaction to what the Fed did this week, compounded by hopes for the Fed to do more next week," Cardillo said. Traders who bet on the Fed's target fed funds rate were pricing in on Wednesday a 100 percent chance of a 0.50 percentage-point cut by the central bank when it meets next week.
This can only benefit one man: "Flounder" from Animal House.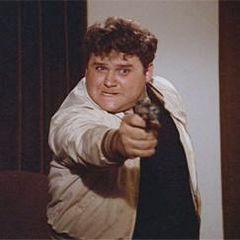 Thanks to Gabe.
No Cowbell! Some want cowbell. Um, no. Stock movements aren't cowbell worthy and in any event we've hit some rocky shoals. I don't provide dishonest, politically-invested wishful cowbell.
I only provide the real thing. Otherwise, this site is nothing more than several hundred morons spouting off on-line about subjects they know almost nothing at all about.
However, I have added some cowbell for the ladies alone. That pic of Flounder. He's holding a gun. While doing a crime.
That's sexy, baby.

posted by Ace at
05:17 PM
|
Access Comments