« Fred's Staying In
|
Main
|
A Real Debate? »
January 04, 2008
All Politics is Local: Ron Burgundy to challenge Chet Edwards in the Texas 17th
I'm sick of Iowa this morning. Ok, I've been sick of Iowa for the past 37 mornings. Enough.
I need a candidate I can really get behind. Someone classy. Articulate. And with really great hair. Someone whose apartment smells of rich mahogany, with many fine leatherbound books.
Yesterday morning, I read about this very man. A man who is ready to take on Chet Edwards, D-Texas. A man who invented the wheel. A man who built the Eiffel Tower with brawn and steel. That man is Rob Curnock.

...
He doesn't have a snowball's chance in hell.

via that Waco radio guy from Long Island (no link to his page, it wants to install WMP, sorry)
If Rob Curnock Says it, It's the Truth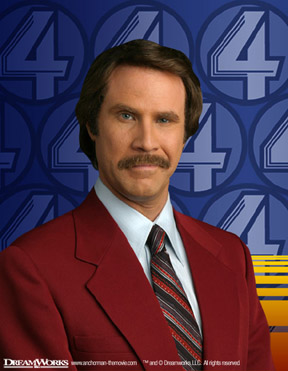 I wanna say something. I'm gonna put it out there; if you like it, you can take it, if you don't, send it right back. I want to be on you.


posted by Dave In Texas at
10:08 AM
|
Access Comments