« John Tierny Rips Al Gore, Global Warming "Consensus" In NYT Piece
|
Main
|
Faux News stiff arms the only man who can save America »
January 02, 2008
Former Arizona Beauty Queen Charged with Kidnapping, Torturing Ex-Boyfriend
Kumari Fulbright, 25, charged with kidnapping, armed robbery, aggravated robbery and two counts of assault with a deadly weapon.
The former Miss Pima County, Miss Desert Sun and Miss Arizona contestant was charged along with 3 other men* with kidnapping her former boyfriend on Dec 8 and holding him for 10 hours.
Court documents said the foursome tied the man up with plastic cable ties and duct tape, holding him at two Tucson homes, during which time they pointed handguns at him, threatened his life, stole his cell phone, briefcase and wallet, taking between $500 and $600.

The newspaper also said the documents accused Fulbright of biting him several times, sticking a butcher knife in his ear, saying she was going to kill him and pointing a pistol at him.
Can you hear me now?
Fulbright was also a law student at the University of Arizona, and a former law clerk for a U.S. District judge. She may have missed a couple of classes though.
Suggested defense strategy: "It's not you, it's me. Or us."

UPDATE: Atilla (Pillage Idiot) discovers photograph of her at terrorist training camp, date unknown (other than "May").
* Other 3 men not charged at this time; one is jailed, 2 alleged accomplices sought by authorities.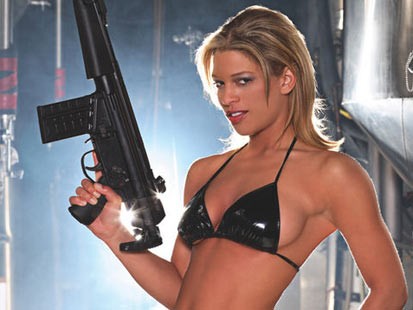 Sure, we can still be friends.

posted by Dave In Texas at
09:28 AM
|
Access Comments