« NYTimes (Partially) Defends Giuliani?
|
Main
|
FutureWeapons: Kitty Cornershot »
December 21, 2007
Demented Christmas Carols
In the category "Oversensitive Sissy-Pantses": Mental Health Charity Sparks Outrage With Spoof Christmas Carols. Patients and staff at the Cromwell House mental health facility put together a quarterly magazine cleverly called "Marooned." The most recent issue contained this list: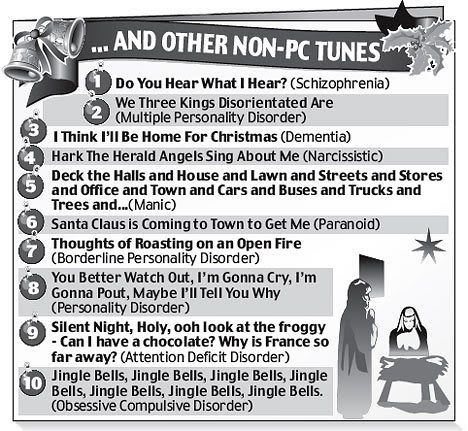 Of course, somebody had to get all offended and demand that the magazine be recalled and pulped. She says that the funny carols "belittle" mental patients. This is in the UK, so of course the mental health facility immediately caved. "In the civilised world, you see, we take great pains not to offend anyone. Etc. etc."
I think the folks at the crazy-place deserve props for some hilarious song names and for titling their list "Other Non-PC Tunes." How obvious could they get that this was a joke? On the other hand, they clearly anticipated that the Political Correctness Police would be on their case.

posted by Gabriel Malor at
04:08 AM
|
Access Comments