« Poll: Romney Edges Huckabee By 3% In Iowa
|
Main
|
Iraqi Government Will Incorporate Some Sunni Militiamen Into Regular Forces »
December 18, 2007
A Child in Need
The USS Ronald Reagan on station, got it under control.
14 year old Laura Montero, suffered acute appendicitis while on a cruise with her family. Her inflamed appendix burst, and that required drastic surgical attention.
And the USS Reagan responded with two helicopters, and a contingent of caring lifesavers. And performed her emergency appendectomy on board. They saved her life.
The video is particularly sweet (upper right), these warriors, the best of us, caring for a little girl in trouble. Very touching
Laura is fine, and will recover from her ordeal.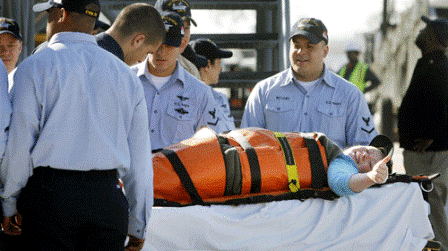 Laura Montero being transferred from the Reagan, docked at Coronado
What a nice name for a kid too.

posted by Dave In Texas at
09:48 PM
|
Access Comments