« The Whisperer in The Shopping Mall
|
Main
|
I Am the Duly Elected Leader of Venezuela »
December 18, 2007
Should Christianity Be a Get Out of Jail Free Card?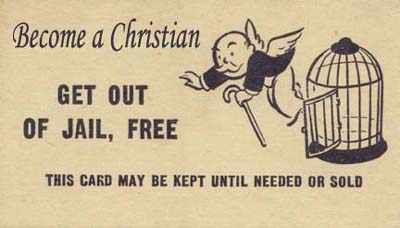 One of the criminals who were hanged railed at him, saying, "Are you not the Christ? Save yourself and us!" But the other rebuked him, saying, "Do you not fear God, since you are under the same sentence of condemnation? And we indeed justly, for we are receiving the due reward of our deeds; but this man has done nothing wrong." And he said, "Jesus, remember me when you come into your kingdom." And he said to him, "Truly, I say to you, today you will be with me in Paradise." - Luke 23:39-43
This story is often cited to show the depth of Jesus' mercy. What's interesting about it is that it also shows His respect for justice. Jesus did not offer to remove this man from his punishment - He only said He would see the criminal in Paradise,
after
the man had paid the ultimate price for his crime.
When I read stories about the generous clemencies of Mike Huckabee, I think of the two criminals crucified with Jesus. Although one of them came to repentance, he was not given a reprieve from his secular punishment. He died at the hands of the state for his crime. He accepted that judgment at the hands of men.
While governor of Arkansas, Huckabee granted 1,023 commutations and pardons in 10 years, twice as many as his three predecessors combined. Arkansas prosecutors have said that if a pastor was involved, Huckabee was likely to grant clemency.
Huckabee's clemency/pardon record is troubling, if only because it shows an inability to separate his faith from his responsibilities as governor of Arkansas. Romans 13 makes it clear that government "does not bear the sword in vain," and that Christians should be "subject to the governing authorities." Huckabee may have been the governor of his state, but his actions showed a fundamental disrespect for the judgment of citizens who served on juries. He put his judgment above those citizens, and in doing so granted mercy where none was deserved.
There is a difference between spiritual redemption and secular justice. People may be forgiven by God for their sins, but that doesn't mean society should overlook their crimes. Huckabee's seeming inability to differentiate between the two is troubling.
Update - A few commenters bring up a fair point. I was in error to write "disrespect for citizens who served on juries." What I should have said is that Huckabee's actions show a fundamental disrespect for the overall judicial system and the families affected by the criminals he pardoned with such frequency.
Prosecutors in that state asked Huckabee time and time again to take more care in his use of the pardon/commutation power and he did not, and even threatened to make it harder for them to make plea agreements with defendants. His actions and his response to criticism showed that he put his own value system above his responsibilities as governor to use his executive power with discretion and take the opinions of those in the judicial system under appropriate consideration.
Oh...And for those who doubt that Huckabee's faith was his rationale for the number of clemencies...
LITTLE ROCK - Gov. Mike Huckabee said Wednesday that his religious background and belief in redemption played a key role in the high number of state prisoners he has pardoned or turned loose early.

"I would not deny that my sense of the reality of redemption is a factor," the former Baptist pastor said in a radio interview with KUAR in Little Rock. "And I don't know that I can apologize for that because I would hate to think of the kind of human I would be if I thought people were beyond forgiveness and beyond reformation and beyond some sense of improvement."
Note how many times he uses the words "my" and "I."

posted by Slublog at
12:06 AM
|
Access Comments