« Surely, This Must Be the First Time In History
|
Main
|
Move Along...Nothing to See Here... »
November 16, 2007
Ace of Spades HQ Fan Club Logo - (liberrocky)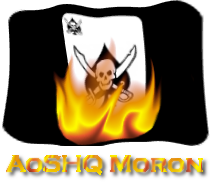 Update: 87 people have voted on the Fan Club Logo. 67 percent say "It rox" while the rest say "it sux"
This is by no means the final design. When I came up with it I wanted to combine three AoSHQ themes: The Black Flag, The Flaming Skull and the Death card.
The font is the same as on the website banner.
Please continue to vote and leave suggestions.
Last thing: All the polls I have running on the site are messing with the back button functionality. It appears to be blogger/Google issue. So I apologize.

posted by xgenghisx at
03:36 AM
|
Access Comments