« Hillary! Spent Election Night 2004 At Soros Party; Spied On Opponents During Husband's Governorship
|
Main
|
On The 12 Captains For Withdrawal »
October 16, 2007
Randi Rhodes Update: Wasn't Beaten At All, Just... Tripped
Delicious Spy Gossip: She Was Ganged Up On By A Pack of 14 Right-Wing Racist Ketel One Bloody Marys
This is what I get for taking a left wing blog at face value.
A police source said Rhodes never filed a report and never claimed to be the victim of a mugging. Cops from Manhattan's 17th Precinct called her attorney, who told them Rhodes was not a victim of a crime, the source said.

Rhodes' lawyer told the Daily News she was injured in a fall while walking her dog. He said she's not sure what happened, and only knows that she fell down and is in a lot of pain.
Gravity is racist.
Same Joke... made by Confederate Yankee. Better, though: Newton was a fascist.
You know a Truther movement is going to start over this, don't you? Because once the left gets a "fact" stuck in their pointy little heads it's in there forever. They cannot be wrong; they've extended the doctrine of papal infallibility to all believers in the Church of Liberalism in the spirit of egalitarianism.
How did Bush "get to" Randi Rhodes and get her to change her story (or rather not change her story, as she herself didn't allege an assault, supposedly)?
There's no way Randi Rhodes could be corrupted in such a fashion. Leading to the horrific deduction: Randi Rhodes has been exchanged for an exact-duplicate ConBot, our equivalent of a FemBot.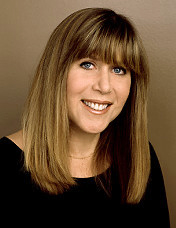 A computer simulation of what Randi Rhodes might look like
after extensive maxillo-facial reconstructive surgery and years of
more conventional cosmetic surgeries...
wait, that's what she looked like before her fall?
You're shitting me. Really? Oh, okay.
Well, I'm sure she's funny. Or nice.
Or into anal or something.
First-Hand Account From a Gawker Reader: Supposedly.
But I buy it.
Randi Rhodes was no more assaulted by a right-wing fanatic on Monday than Dick Cheney was. She, in fact, fell down and injured her teeth outside of a Midtown Irish bar at around 6 o'clock Sunday evening after downing about fourteen Ketel One Bloody Marys. She was abusive to the barstaff and generally gross, crass, loud, and pretentious. I genuinely hope she has a speedy recovery. I never would've disclosed this (I believe that anyone should feel free to hang out at Irish pubs at any time and not be concerned about someone publishing their behavior) if Air America hadn't grossly interpreted a drunken indiscretion and allowed it to be morphed into some bullish rhetoric on air. Whatever journalistic integrity the station may have ever had is now completely compromised. The manipulation of the public diminishes any cause, whether just or fabricated.
More... Some lefties gleefully comment on the coming purge of Republicans, rounded up at LGF. I'm surprised their posts aren't more riddled with typos, given the fact that they're obviously masturbating over sexual fantasies while typing.
And That's Not All... Now How Much Would You Pay? Priceless comment at Taylor Marsh's blog. Thanks to Enlightened for this.
I think the folks on our side better wake the fark up and realize we are in basically a slow boil civil war here in the good ol USSA. It's one you don't hear about in the corporate media but look back over the last TWENTY years. Abortion providers murdered, womens health clinics bombed, gay bars bombed, liberal radio hosts murdered and assualted with attempts on lives. Sixty gazillion dollars of attack adds on rightwingnutospere shows(comperable worth) publishing of addresses of radio liberals who DARE speak up. It IS a war and we'd better farkin wake up to that fact.
They're not anti-war. They're jonesing pretty hard to fight a war against their fellow countrymen, whom they consider enemies, as they don't consider "country" a worthy concept to be loyal towards. Their "country" is ideology and ideology alone, which is why there is so little self-awareness about their perpetual claims to "patriotism" while simultaneously calling for jihad against their fellow citizens. They're patriotic, but not towards America: towards the transnationalist progressive collectivist Nation of Earth.
And we're enemies of that "country," and hence we are their enemies in war.
Screenshots of more weapons-grade crazy and strangely pro-civil-war "patriotism" at Michelle Malkin.
Thanks to RobG for that.

posted by Ace at
03:38 PM
|
Access Comments