« "Reporters in the Green Zone have no idea what goes on out here"
|
Main
|
Armless And Dangerous: Armless Foot-Painting Artist Headbutts Man To Death »
September 18, 2007
The Last Worthless Acepalooza Evening Post
Couldn't resist.
I tried. You'd try too, if you were me.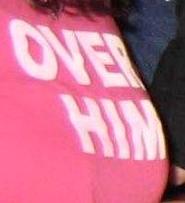 "Over Him". An expression in a lost language that means "Easy Score".
Ace: Actually I think a t-shirt reading "Over Him" translates exactly to this entire monologue:
(By the way, I'm really not picking on the girl, or at least just observing the obvious: anyone declaring "OVER HIM" is looking to get under someone else as soon as possible. Trust me, guys are like lions stalking a herd of wildebeest: We can pick out the ready for taking ones from 1.4 miles.)

posted by Dave In Texas at
10:36 PM
|
Access Comments