« "Military Moms" the next "Soccer Dads"?
|
Main
|
In Defense of Larry Craig »
August 29, 2007
Hillary's Mysterious Benefactor Mr. Hsu Is A Fugitive Wanted By The Law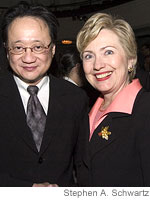 The poor gal just can't help being duped by
smooth, shady operators... and that's exactly what you
want in your Commander in Chief.
Don't worry, none of this is important, newsworthy, or even terribly interesting. The Deciders have decided.
For the last 15 years, California authorities have been trying to figure out what happened to a businessman named Norman Hsu, who pleaded no contest to grand theft, agreed to serve up to three years in prison and then seemed to vanish.

"He is a fugitive," Ronald Smetana, who handled the case for the state attorney general, said in an interview. "Do you know where he is?"

Hsu, it seems, has been hiding in plain sight, at least for the last three years.

Since 2004, one Norman Hsu has been carving out a prominent place of honor among Democratic fundraisers. He has funneled hundreds of thousands of dollars in campaign contributions into party coffers, much of it earmarked for presidential hopeful Sen. Hillary Rodham Clinton of New York.

In addition to making his own contributions, Hsu has honed the practice of assembling packets of checks from contributors who bear little resemblance to the usual Democratic deep pockets: A self-described apparel executive with a variety of business interests, Hsu has focused on delivering hefty contributions from citizens who live modest lives and are neophytes in the world of campaign giving.

On Tuesday, E. Lawrence Barcella Jr. -- a Washington lawyer who represents the Democratic fundraiser -- confirmed that Hsu was the same man who was involved in the California case. Barcella said his client did not remember pleading to a criminal charge and facing the prospect of jail time. Hsu remembers the episode as part of a settlement with creditors when he also went through bankruptcy, Barcella said.

The bulk of the campaign dollars raised by major parties comes from the same sources: business groups, labor unions and other well-heeled interests with a long-term need to win friends in the political arena.

But the appetite for cash has grown so great that politicians are constantly pressured to find new sources of contributions. Hsu's case illustrates the sometimes-bizarre results of that tendency to push the envelope, often in ways the candidates know nothing about.
This campaign message brought to you by Hillary! 2008.
As a Democratic rainmaker, Hsu -- who graduated from UC Berkeley and the Wharton School of Business -- is credited with donating nearly $500,000 to national and local party candidates and their political committees in the last three years. He earned a place in the Clinton campaign's "HillRaiser" group by pledging to raise more than $100,000 for her presidential bid.

Records show that Hsu helped raise an additional $500,000 from other sources for Clinton and other Democrats.

"Norman Hsu is a longtime and generous supporter of the Democratic Party and its candidates, including Sen. Clinton," Howard Wolfson, a spokesman for the campaign, said Tuesday.

"During Mr. Hsu's many years of active participation in the political process, there has been no question about his integrity or his commitment to playing by the rules, and we have absolutely no reason to call his contributions into question or to return them."

Wolfson did not immediately respond Tuesday night to questions about Hsu's legal problems.

Though he is a fugitive, Hsu has hardly kept a low profile. The website camerarts.com, which sells photographs taken at political events, features shots of Hsu at several fundraisers he hosted at Manhattan's elegant St. Regis hotel -- including a June 2005 luncheon for Rep. Doris Matsui (D-Sacramento).
No one knew he was shady. Can't fault anyone involved in this. Poor Hillary! and the other Democrats taking straw-man donations from a fugitive felon were duped yet again.
Unlike as was the case with, say, Jack Abramoff. In that case, everyone taking his donations should have known he was bilking his clients.
Nuance.
Thanks to JackStraw.
PS: Liberals will claim my criticism of the MSM is self-defeating here-- after all, this story is from the LAT. But the fact that reporters occasionally rouse themselves to actually report on Democratic skullduggery hardly proves that The Deciders in the MSM give stories that hurt Democrats the same play, the same flood-the-zone coverage that they give similar stories that hurt Republicans.
The LAT duly noted this and will now dutifully move on. We will not have the feeding frenzy of the NYT, NBC, CBS, and ABC all breathlessly reporting on this story and once and dedicating serious journalistic resources to advance it. Abramoff was taken by the media to demonstrate the heart of corruption in the GOP (despite the fact that Harry Reid took more money from Abramoff than most Republicans); this story, on the other hand, signifies nothing at all.
It's of a piece with the Guess That Party! game. When a Republican is caught dirty, it's an indictment of the GOP. When a Democrat is caught dirty, on the other hand, it's merely an indictment of "the system" generally -- no specific fault found on the part of a Democratic politician or the Democratic Party generally.

posted by Ace at
12:42 PM
|
Access Comments