« Peace College Opens, *Finally;* School Hopes To Attract Students With Promise Of Easy Hairy-Legged Hippie-Whores
|
Main
|
300 »
August 16, 2007
Think Progress, Wonkette Smear Jenna Bush
Nonparty Politics notes that the readers there actually reacted decently (or at least some did), telling TP to shut the hell up.
Anyway I have to quote this. Here's some really stupid insinuation:
Laura claimed Jenna and fiancé weren't seriously dating.

The White House announced today that Jenna Bush, one of President Bush's twin daughters, is engaged to be married to her longtime boyfriend, Henry Hager. This must come as a shock to Laura Bush, given that in 2005 she publicly proclaimed that Jenna and Henry were not in a "serious" relationship. Here's how the Washington Post reported it:img

Former White House aide Henry Hager may be flying high, considering he's dating the president's daughter, but maybe he shouldn't get too comfortable with Jenna Bush on his arm. Yesterday on ABC's "Good Morning America," Charlie Gibson broached the topic of the twins' dating with Laura Bush, noting: "I've read in the social pages that one of your daughters has a new boyfriend."

The first lady, referring to the 26-year-old Hager, who has been seen regularly in Jenna's company, said: "This is not a serious boyfriend — I hate to have to be the one to say it on television. But he's a very nice young man."
Note the "contradiction" that Think Progress has discovered -- a lie from Laura Bush, deflecting away speculation about her non-public-life daughter by saying they're "not serious."
How dare she.
I demand a Congressional investigation to get to the heart of this newest neocon snowjob.
People just don't date each other for two years and then suddenly decide to get married, folks.
Perhaps this is why Karl Rove resigned -- to distract us from this newest impeachable offense.
Two years dating? And now they're engaged? Yeah, pull the other one. I question the timing.
Ken Layne, meanwhile, posing as a woman under the name "Wonkette" (which isn't all that hard a sell-- kid sucks cock like the Great Devorian Chicken Inhaling Beast, I hear!*), decides that mere underhanded insinuation isn't enough, and so launches a full-bore attack someone who isn't even in politics with the very classy subhed, Is Jenna pregnant or just really fat?
Hey, Ken? How's that media career goin' for ya, buddy? Remember when you thought you'd soon have a gig with a real MSM outfit? And now you're working in Ana Marie Cox's old internet pretend-job, working for her old crappy salary (if that-- did you manage to get the big Cox salary or did you agree to a cut?), while she, many, many years your junior, is now at Time.
Ah, the dreams of one's advanced middle age. How sour their ashes taste now. How nice it would be to chase that taste away with a nice stinging swig of oblivion in a bottle, eh?
Remember when you were only 68, still full of piss and no-talent vinegar, and you still had the boyishly leathery skin of a veritable child of 63? And remember when you could almost get away with that low-rent Amish beard, looking like a slightly older, slightly unhealthier, slightly seedier version of ZZ Top's retarded cousin Earl?
Where did the days go, Ken. Where did the days go.
Ah, no worries, Ken. Soon your cares will all slip away like your dreams and your ambitions and your job prospects.
PS: I'm sure your band is gonna break big any day now.
Any.
Day.
Now.
Thanks to Nick.
Oh... How is it you only get 73,000 hits a day with Nick Denton's link-machine behind you? You ballsuckers only seem to get traffic when you resort to this sort of disgusting attack and Fark links you.
Quite frankly, anyone can do that.
You've failed at a media career, you've really failed at your stab at being a rockstar in your make-pretend band "Ken Layne and the Midlife Crises," and now you're failing at blogging with a staff of three full-time, er, men and as much promotion and built-in audience as you could want.
But remember, no matter how much you fail at how many endeavors -- it's all Bush's fault, so there's no problem going after his daughters.
* Exclamation points put in because that's what Ken Layne and the other shemales posting at Wonkette claim separates "defamation" from "cheeky joshing!"
Ken Layne: Pregnant or Just Really Fat?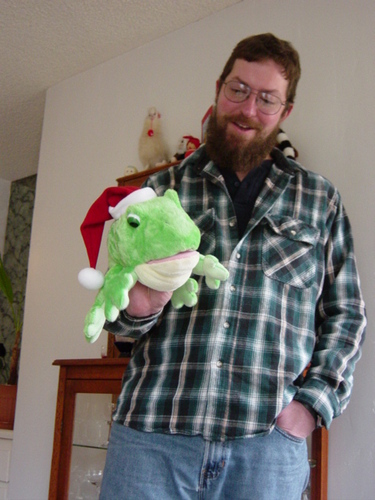 Psst -- Ken. I hate to be the one to tell you this, but unless you're planning on taking over Blues Traveler or writing some Wagnerian rock power-ballads with Jim Steinman, you can't be a rockstar when you're rockin' a 46-inch waist pair of Wrangler Huskies.
It's time for an abortion or Atkins. Not sure which. I'll leave that up to you.


posted by Ace at
10:17 PM
|
Access Comments