« Tonight We Dine In..... [Vinnie]
|
Main
|
Brown Person Marine Scares The Crap Out Of Me »
August 12, 2007
Perfect night - Perseid meteor shower (corrected title cause I suck)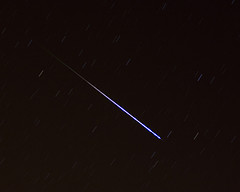 The dusty remains of the comet Swift-Tuttle.
Supposed to be peaking around 11pm EDT for you eastern time zone folks, and the national radar pic looks pretty clear (except for Iowa... what the hell is going on there? Keep your heads down).
You should expect to see at least one good firefall per minute.
New moon tonight, so no interference there. Look east, and enjoy.

UPDATE: Time zones confuse the hell out of me.
Commenter JAFKIAL notes that the 11pm time is PDT, not EDT.
So, 2am for you goobers back east. As they say in, I don't know, Portland or whatever.
Can't we all just synchronize our watches? I've got 9:47. Let's go with that, shall we?
UPDATE 2: Wickedpinto points out I'm a moron and can't tell the diff between Persius and Perseid, which as anybody with a keyboard can tell you, is one letter right of "u" and one left of "d".
I'm thinking about applying for a scholarship.

posted by Dave In Texas at
09:01 PM
|
Access Comments