« Primary Directive: SC Jumps Ugly As It Moves Its Primary Ahead of Precious NH's
|
Main
|
Nasty Beaver »
August 08, 2007
First the Rightwing Parody, Then the Leftwing "Reality:" Yes, They're Now Claiming Global Warming *Causes Volcanos, Earthquakes*
The Earth Fights Back, crows this Guardian piece, claiming that the planet has taken all it can take and is now set to go Rambo on us with all the means at its disposal -- which includes, somehow, deliberately, willfully inducing earthquakes and volcanoes.
We've parodied this tendency on the left for a while, suggesting -- for laughs -- that the left would blame any calamity on global warming, even those that obviously could not possibly have any connection to atmospheric warmth, such as earthquakes and volcanoes. Which are of course caused by plate tectonics and pressures beneath the earth's mantle, and couldn't tell if the earth's temperature had increased by 1000 degrees, nevermind 1.
But last year's parody becomes this year's Inconvenient Truth. And the Cult of Mother Gaia, in all its illogical theocratic glory, officially takes the inevitable step towards deistic teleological anthropomorphization.
What? I don't know what the hell that meant either. I think I channeled Jeff Goldstein for a minute.
Earth is angry, boys. And earth plans to cock-slap the lot of you. (That much of Goldstein I "get.")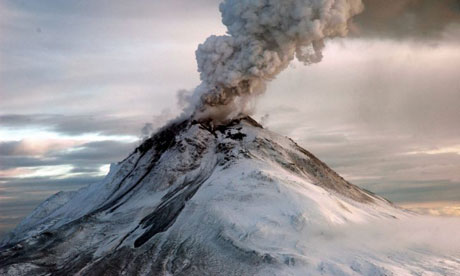 That's the Guardian's illustrative pic. They're warning us that we cannot wait for the smoking gun that comes in the form of a pyroclastic cloud, it seems.
Now we discover that not only are the oceans and the atmosphere conspiring against us, bringing baking temperatures, more powerful storms, floods and ever-climbing sea levels, but the crust beneath our feet seems likely to join in too.

Looking back to other periods in our planet's history when the climate was swinging about wildly, most notably during the last ice age, it appears that far more than the weather was affected. The solid earth also became restless, with an increase in volcanic activity, earthquakes, giant submarine landslides and tsunamis. At the rate climate change is accelerating, there is every prospect that we will see a similar response from the planet, heralding not just a warmer future but also a fiery one.
Hmmm... maybe weather was affected by volcanoes blasting thousands of tons of albedo-increasing ash into the atmosphere, as was the case with Mt. Pinitubo in the 90s. Perhaps shifting continental plates caused -- get this -- shifting ocean currents, resulting in a different distribution of ocean warmth and thus affecting temperatures.
In other words, maybe massive tsunamis, landmass movements, and volcanic explosions influenced the weather, rather than the weather causing massive tsunamis, landmass movements, and volcanic explosions.
Nah, that's too simple. Must be the "Satan Chemical" which was until fairly recently called "carbon dioxide."
...

But how can rising sea levels cause volcanoes to erupt? The answer lies in the enormous mass of the water pouring into the ocean basins from the retreating ice sheets. The addition of over a hundred metres depth of water to the continental margins and marine island chains, where over 60% of the world's active volcanoes reside, seems to be sufficient to load and bend the underlying crust.
Um, one problem? That "enormous mass of water" didn't just come out of nowhere. It was always there. Either in the form of glacial ice or liquid water, it has always been on the earth's surface, and hence was always "bending the underlying crust."
Does this douche have any evidence that the massive weight of glacial ice covering landmasses has no earthquake or volcano-inducing effect, and yet the sea bed is, for some unexplained reason, particularly sensitive to additional weight?
It's actually dumber than that, because, of course, water in the form of glacial ice gets stacked upon itself quite high, resulting in more weight weighing down upon a specific and limited area of the world's crust (more pressure, more force per square foot), whereas liquid water of course seeks its own level and distributes its weight almost perfectly evenly along the entirety of the world's contiguous oceans and seabeds.
What would "bend" the earth's crust more? A half mile of ice stacked up over a fairly small area, or a dozen meters of water spread out over the whole of the word's oceans?
This in turn squeezes out any magma that happens to be hanging around waiting for an excuse to erupt. It may well be that a much smaller rise can trigger an eruption if a volcano is critically poised and ready to blow.
Well, at least he's using all the proper scientific terminology. In a slightly more scientifically rigorous formulation, the earth's crust is like the skin of the planet's face, water pressure is like a teenager's fingers, and volcanoes are like pimples in need of popping.
Got it?
Eruptions of Pavlof volcano in Alaska, for example, tend to occur during the winter months when, for meteorological reasons, the regional sea level is barely 30cm (12in) higher than during the summer. If other volcanic systems are similarly sensitive then we could be faced with an escalating burst of volcanic activity as anthropogenic climate change drives sea levels ever upwards.
Yeah. And volcanic eruptions blast the air with thousands of tons of light (and heat) reflecting particles which, in turn, depresses the amount of sunlight actually reaching the earth and hence lowers temperature.
So, by this idiot's own hypothesis, we need to take no steps whatsoever to fight global warming; angry Mother Earth will take care of it for us, by wagging her earthquakes at us and scolding us with volcanic blasts.
In other words, we can mess up our room to our heart's content; mom's on the job.
Goddamnit, no one has the right to be this fucking stupid. Is this any different than just cutting to the chase and saying lighting is caused by battles between Thor and Loki, or rainfall is caused by Jesus crying?
Thanks to both Jim and Mike. Wish I'd noted their tips sooner; I didn't realize exactly how frigging stupid this was.
Note the Pattern: Whenever non-anthropogenic, non-carbon-dioxide causes for weather changes are noted, the Global Warming Cultists first denigrate such causes, but then switch to claiming a reversal of cause and effect, i.e., these events do not cause temperature increases, but rather temperature increases cause these events.
The next step? Well, it's obvious, isn't it? Since the varying power-output of the sun, a cyclical phenomenon that just happens to correspond nicely with rising temperatures, is proposed by some to be a major, if not the largest, contributor to increasing temperatures on earth, it is only a matter of time before a Global Warming Cultist claims that increases in CO2 on earth somehow triggger sunspot activity.
Sound preposterous? Well I thought this last one was pretty preposterous too, and yet here we are, now having to deal with the absurd claim that global warming caused Noah's flood.
Ecstatic Religious Millennialism Update! Just so you know this guy is a serious scientist, and not at all a religious zealot clownishly toting "THE END IS NEAR" placards, I'll have you know he's written an extremely nuanced and scientifically cautious book called Surviving Armageddon: Solutions For a Threatened Planet.
Surviving Armageddon.
Will this happen before or after the Jews rebuild the Temple of Solomon, I wonder?
Damn Jews and their Satanic global-warming zionism.
The Book of Climatic Revelations: And the Second Seal was opened, and lo, the sky did become as black as sackcloth, and the seas did boil red as if blood, and yea, an apartment complex in Oslo was smitten low by Satan's Army of Carbon Dioxide Molecules, each one with seven heads and ten horns...
Thanks to Christopher Taylor of Net Word Blog.

posted by Ace at
03:16 PM
|
Access Comments