« How to Say "Shut The Hell Up" and Make It Stick [Stashiu3]
|
Main
|
NBC reporter outed spying at DefCon [Purple Avenger] »
August 04, 2007
Crazy and/or geeky stuff [Purple Avenger]
This is impressive. Engineer porn -- the money shot. Destruction test of the 777 wing
Scandis eh? You want proof Scandis are crazed? How about some Scandi loons flying a large model airplane through a couple mile long tunnel under Stockholm? Yea, there's traffic. Yea, they're nuts.
I know Ace said no porn, but this is one hot number I just can't resist...BALL SCREWS.
Every so often I come across some bit of technology that is so perfectly suited to a particular task its worth mentioning. Penis pumps might be one such technology, they seem perfectly suited for judges. The notion of the ball screw is another one. The floors in machine shops get all sticky over this kinda shit...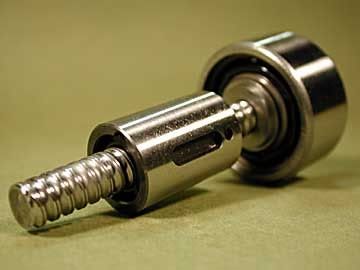 One of the problems with high precision machining operations is play in the machine tool itself. Things like threads are used to advance cutters and such, but ordinary cut thread screws have a certain amount of slop in them and can wear over time resulting in imprecision creeping into the machine. For a lot of run of the mill machining operations, this slop may not be a big deal, but for some things that need to be precise to say 1/10,000th of an inch (ex tiny internal combustion motors like the old Cox .010 cubic inch model engine which isn't much bigger than a $.25 cent piece ), slops of any amount make producing the part virtually impossible.
Enter the ball screw. The interposed between the male/female "threads" of the ball screw are small ball bearings -- the male and female ride on those miniature ball bearings and remove virtually all the mechanical slop in the feed screw mechanism and reduce friction during traverse operations.
A wonderful thing the "ball screw idea" is -- much of the high precision small components of today's world would be almost impossible to make without it.

posted by xgenghisx at
09:35 AM
|
Access Comments