« It's worse than you thought
|
Main
|
Niners' Coach Bill Walsh Dead At 75 »
July 30, 2007
What Is This Here Stupid Shit?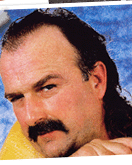 Rich "Psycho" Giamboni,
Special AoSHQ Correspondent
Big Rich here. You pansies probably know me from a piece I wrote up a while ago.
Ace is good people. We go way back. I used to make the geek do my science homework for me in sixth grade. And also some gay stuff. Not super-gay stuff or anything. Just stuff with my wiener.
That's neither here nor there. I don't have to answer your questions. I'm not the one on trial here.
At any rate, since this pussy ran off, I'm supposed to do this queer blogshit or somethin' for him. I don't know. I guess it's just posting gay shit and then making gay comments after everything like I'm Lord fucking Brucie, King of the Gaylords or something.
Like this:
Fred Thompson raised only three million buck last month. Everyone's saying he's a dud.
I don't know, sounds like a lotta fuckin' jack to me. But then, I work for a living, brother. I don't live the soft life like most of you. Most of the day I spend in the baking heat on top of people's roofs. Then I let myself in through a window and spend the rest of the day baking in their air conditioning, stealing their electronics and jewelery and baseball card collections.
When I'm not doing that I'm breeding fuckin' ferrets and training for the UFC. UFC, baby.
Am I afraid of gettin' all fucked up? No way, my little Psychomaniacs. Wanna know why? Because you can't hurt steel.
That's kind of my motto. I'm planning on getting a robe with that on it from Spenser's Gifts. My hot-ass stripper girlfriend Heather Betthany thinks it's going to look awesome.
So there you go. This soft-handed fuck "only" made 3 large last month doing all kinds of nothin' at all I'm breaking my ass trying to fence some stupid retard-kid's telescope for $10 on the goddamn curb and learn how to keep those squirmy little judo-faggots from kicking my kidneys in.
But I guess I'm supposed to cry for Fred Thompson. A boo. A hoo. A hoooooo.
Is that it? Is that all there is to this shit?
Not so hard.

posted by Rich "Psycho" Giamboni at
11:02 PM
|
Access Comments