« Six Flags "Superman: Tower of Power" Ride Malfunctions, Severs 16-Year-Old Girl's Feet
|
Main
|
You Got The Lightning Gun: Military Invests In Laser That Can Ionize Air, Creating Conductive Pathway For Cracklin' Electro-Blasts »
June 22, 2007
One Picture Is Worth A Thousand Words of Editorializing
New York Times photographers, fair and balanced. How the New York Times sees the world -- and, more importantly, how the New York Times presents its view of the world to the public.
Amnesty supporters:
Amnesty opponents:
Even liberal writer Nicholas Von Hoffman noticed:
The other day The New York Times did a piece on the grass-roots opponents of the great compromise immigration bill. The accompanying photos showed a bunch of snaggletoothed retards living in trailers on the outskirts of town near the dump.

Thus the message is conveyed that if you want to identify yourself with right-thinking mainstreamers, you will be in favor of this bill. Episcopalians are, Harvard-educated reform Jews are, Roman Catholics who favor a woman's right to choose are, so get with the respectables and let your legislator know you love this bill.
Amusingly (and ironically -- mostly), he then begins referring to immigration opponents as "snaggle people," lampooning the NYT's editorial position.
How liberal is Von Hoffman, by the way? Pretty liberal -- so liberal that Andrew Sullivan named his "Von Hoffman Award" for him, due to his prediction of a crushing Taliban victory in Afghanistan made just before they were routed.
His article is well-worth reading, though -- he's calling for an immigration pause, something that few except Nixon-goes-to-China lefties feel comfortable calling for, lest we be called "racist" by Lindsay Graham.
The NYT's brave new public editor (i.e., shill apologist) of course denies any editorial intent by illustrating opposition of to the bill as coming entirely from corncob-smokin' chicken-chokin' banjo-strokin' cousin-pokin' lynch-ropin' inbred hillbilly racist mutants:
I asked Michele McNally, the assistant managing editor in charge of photography, why her editors would choose to run a picture of a man missing a tooth when they had to know it could contribute to stereotypes about the kinds of people opposing the immigration bill. She said there had indeed been a discussion about Murphy's appearance: how not to show his missing eye, which looked less flattering.

"I think it is discriminatory to say all toothless people who represent controversial positions shouldn't be used," she said. "This is a very big country that has a variety of styles and types."

...


I think all those people who have been complaining about Murphy's photo owe him an apology. They assumed that, because he was missing a tooth, he was missing a brain. They also assumed that editors at The Times shared their prejudices and were attempting to ridicule opponents of the immigration bill.

They were wrong on both counts.
What bullshit. I've seen some illegal immigrants, and let me tell you, they're not all comely. Some are pretty rough-looking, as a matter of fact. And yet New York Times photographers have this knack of presenting only the most telegenic and pull-the-hearstrings illegals to illustrate its pieces.
I suppose the NYT's public editor will rebut that that little guy doesn't have all of his teeth, either.
Amidst the gloriously red white and blue of the many big flags, is that a wheelchair-bound victim I see back there...?
The New York Times says it will correct this visual bias by next conducting an interview with amnesty-opponent and cannibal mutant redneck "Pluto" from schlock horror classic The Hills Have Eyes.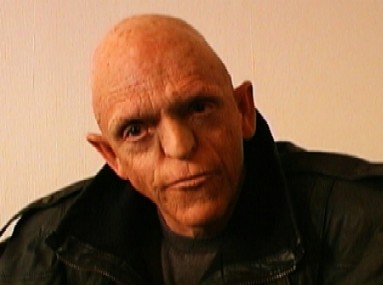 "No on amnesty. Illegals just sorta taste funny.
I think it's all those fried bananas they eat or somthin'."
The New York Times public editor writes "shame on you" for thinking that just because Berryman kidnaps, murders, and eats lost college students that this in anyway suggests he lacks education or culture.

The Height Of Hypocrisy and Self-Righteousness: I should have noted the public editor's opinion on this obvious bias was "The Ugly Thing Wasn't His Face," a self-righteous attack on the "lookism" of all those who complained about the photograph.
And commenters point out that while this jackass scolds us, he admits in his own piece that the possibility that this photo might -- might! -- reinforce "stereotypes" against those who oppose amnesty-without-security was discussed by the NYT's own photo editors.
So how is it that we're to be scolded for our lookism when the NYT itself had a debate (supposedly; I think it was more of a high-five session) over running the photo?

Viva Los Male Models!
"Amnestia, si!"

Vs.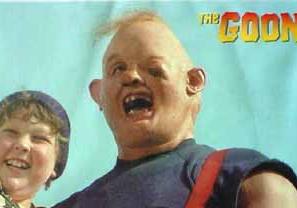 "Illegal aliens keep stealing my pirate treasures!"
Hmmm... I'm having trouble deciding who I ought to side with!
Thanks to LauraW for that.
Correction: I wrote that the character from The Hills Have Eyes was named "Berryman." The character's name is Pluto; the actor is named Michael Berryman. I never saw the film, so when the picture identified him as "Berryman," I assumed that was the character's name.
Richard McEnroe corrected me and tells me Berryman is a nice guy.

posted by Ace at
04:57 PM
|
Access Comments