« Re-Post: Al Gore Knocks First Bush Administration For *Understating and Ignoring* Saddam's Terrorist Links And Quest For The Nuke
|
Main
|
Just When You Thought It Was Safe To Vote Republican Again: They're Bringing Back Amnesty, And This Time, They WILL Pass It »
June 13, 2007
Of course, at AOSHQ, 'Winners' is a relative term.
FIRST PLACE: The prolific Slublog, whose haiku-hammer was powerful and devastating, yet also tender and seeking.

So President Bush
I've got a few words for you
Quack quack quack quack quack

Ron Paul is the shit
No really, I mean the shit
Actual feces

Tears at the White House
And tears on the Senate floor
Gives me a chubby

What's that, RNC?
You want some of my money?
How's it feel to want?
Other winners after the jump.
SECOND PLACE: jdub's lolcat (P-shop rendered by slublog):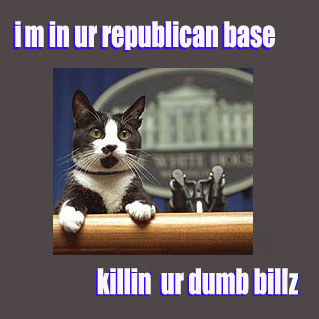 TIED FOR THIRD PLACE, for their skill with evocative imagery:
Toby928:
twisting and turning
in a gale of voter ire
Lott's hair is moving
And Sinistar:
Lindsay Graham weeping
spooning with friend John McCain
watching some Buffy
All "Winners" will receive a bag of quicklime and a shovel, to facilitate the activity that keeps their wit honed and their powder dry. Congratulations!
HONORABLE MENTIONS:
The Great Satan:
Sellouts & Whores™
I abhor them more and more
Burn it down and salt the floor.
DiscerningTexan:
Tsunami warning
McCain and Graham washed out
Ted wanders shoreline
Senator Lindsey Graham (Ace):
the razor kisses my wrist like a lover

I wail an anthem of pain

Ohmygod! Those shoes are soooo cute!
Thanks to all who participated.
Contest Winners&bodytext=Of course, at AOSHQ, 'Winners' is a relative term. FIRST PLACE: The prolific Slublog, whose haiku-hammer was powerful and devastating, yet also tender and seeking. So President Bush I've got a few words for you Quack quack quack quack quack...&topic=world_news">

posted by Laura. at
02:35 PM
|
Access Comments