« Bush Ignored Warnings That Iraq Might Devolve Into Chaos, Except For The Long Debates About How To Deal With It Devolving Into Chaos
|
Main
|
Tony Blair: Jihadist Suspects Permitted To Abscond By... Liberals and Left-wing Judges »
May 27, 2007
It's Sunday, So Here Are Some Things
My lack of a social calendar on this holiday weekend is your gain.
First up--My favorite newspaper is keeping tabs on the cutting edge work going on in today's research labs:
Sexual orientation and gender affects navigation skills, with straight men best at map reading and heterosexual women worst, according to a new study.

Researchers at the University of Warwick considered how we perform mental tasks in light of sexual preferences, with straight men performing better at map reading than gay men who in turn perform better than lesbians, who in turn do better than straight women.

...

Gay men showed a more female-typical pattern of performance than straight men did, and lesbians showed a more male-typical pattern of performance than straight women did.
Ahh, science. We're not so different after all, you and me. You just don't make as many cheap shots about people getting lost because they're too busy looking for antique shops to read road signs.
In the interest of fair play, however, I'll add this:
As expected they found men outperformed women on tests such as mentally rotating objects, and matching angles, while women outperformed men in verbal dexterity tests, and remembering the locations of objects. So while men may be better at map reading, women are better at finding the car keys.
Which makes it sound like each half of the human race is each retarded in its own special way. Equality.
And speaking of retarded, there's a problem with Halo 2 for Vista:

In an e-mail statement sent to Next-Gen, Microsoft said, "It has come to our attention that an unfortunate, obscure content error which includes partial nudity was included in our initial production of "Halo 2" for Windows Vista. As such, we have updated the initial game packaging at retailers with a label, so customers are aware before purchasing the game. Additionally, we've developed an online update which can be downloaded from www.halo2.com to remove the content.

...

the ESRB e-mailed Next-Gen a statement that said a "photograph of an individual showing his bare backside" is accessible within Halo 2 Vista's exclusive map editor tool. Apparently, it pops up when an ".ass" error occurs.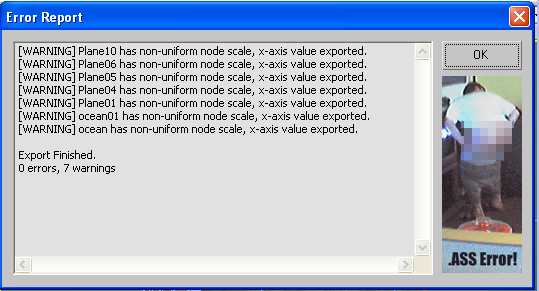 Via Bit-tech, which also has the skinny on the songs for Guitar Hero 3, if that's your thing.

Finally, Paul Newman is retiring.
Paul Newman says he's given up acting.

"I'm not able to work anymore as an actor at the level I would want to," Newman, 82, told ABC's "Good Morning America" on Thursday. "You start to lose your memory, your confidence, your invention. So that's pretty much a closed book for me."

Newman, star of such films as "Hud," "Cool Hand Luke" and "Butch Cassidy and the Sundance Kid," added: "I've been doing it for 50 years. That's enough."
Ask people their favorite Paul Newman movie and they'll probably talk about Cool Hand Luke, Butch Cassidy, or The Sting. All of which are fine films.
My favorite, though? Shit, there's only one choice:
Finding clips of that movie that aren't dubbed into French is harder than you'd think.
Happy Memorial Day.

posted by AndrewR at
03:26 PM
|
Access Comments