« Memo Proves: Valerie Plame Lied Under Oath
|
Main
|
16 Terrorists "Directly Linked" To May 12 Attack on/Capture of Our Troops Caught »
May 26, 2007
UPDATE: WaPo Also Taken In By Fake Memo, It Seems
Larry Johnson Claims: Theater-Wide Supply Problems Mean Our Troops In Iraq Will Go Hungry
Update! Story debunked by numerous sources all sharing the same IP address!
...

Larry Johnson, famous "intelligence agent," has the Super-Duper Scoop:
Some brave soul in the U.S. military sent Pat Lang a memo issued Monday that shows the U.S. ability to support its troops is collapsing and very vulnerable to disruption.

The memo states:

Due to a theater-wide delay in food delivery, menu selections will be limited for the near future. While every effort will be made to provide balanced meals, it may not be possible to offer the dishes you are used to seeing at each meal. Fresh fruits and salad bar items will also be severely limited or unavailable.

...

We don't have enough convoys to give our troops three hot meals a day. We want them to step up the patrolling. We want them to search 24-7 for missing soldiers. But, by God, they don't deserve three hot meals a day.

Excuse my rudeness, but that is fucked up. Way to go General Petraeus.
He ads this update:
UPDATE: I've received a note from a journalist buddy who say's that the US military Public Affairs Officer in Baghdad says this is a phony document. We'll see. I sure hope that is the case. But it does not undermine the basic point of the vulnerability of the U.S. supply line.
Ah. His basic point wasn't that it was "fucked up" that our boys weren't getting their three-square. It turns out, now that the document is revealed as a fraud, his basic point was about the general vulnerability of supply lines and that such supply lines could, hypothetically, be disrupted.
I wonder how on earth this scary-smart "intelligence agent" ever could have been taken in by a fraudulent document. I mean, after all, the thing sure looks real. I mean, hey. It's got an eagle on it!
Surely any document with an eagle on it must be genuine.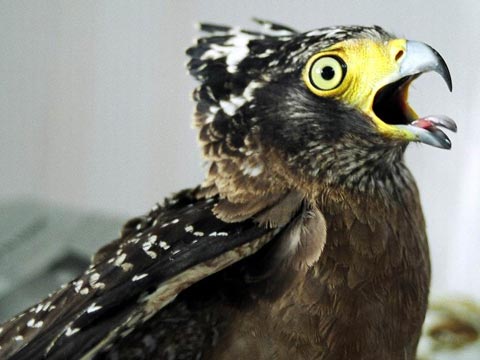 Bush Lied! Bush Lied! Ca-Caw! Ca-Caw!
Thanks to... Seixon, posting from beyond the blog-grave, a restless ghost still seeking vengeance on his one-time tormenter.

That Eagle Of Genuineness: I've searched throughout all Google images for "eagle" and I have not seen that image. So am I to conclude this is part of the standard document-dressing for the US army in Iraq, and yet it's never before appeared on the Internet?
If you blow up the image to 200%... well, I can't vouch for this, because the image gets too grainy at that size.
But it really doesn't look like a drawing. What it looks like to me is a picture of a hummel-type desk-statue of an eagle and flag.

Found The Image: Here. As part of the masthead for "CERT Los Angeles," which seems to be volunteer disaster-preparedness training thing.
It's not from a figurine site, but at this higher resolution, it does look even more like a figurine. I guess I got lucky as my second figurine search ("American Eagle figure") wound up finding it: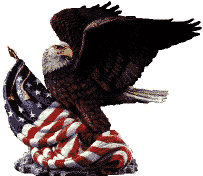 So, not a single instance of this image came up in any connection to a US military document.
It was, however, discoverable via a Google search for eagle images.
However, I can certainly see why genius super-spy Larry Johnson was taken in by the forgery.
It had an eagle on it! And furthermore -- an eagle with its talons around an American flag!
Gold standard, baby. Pretty much self-authenticating right there.
If anyone wants to keep searching for Eagle American Flag Figurine and variations on such, please, go ahead. I'd like to see precisely what knicknack and hummel vendor the US military is taking its eagle images from.
But I can't keep searching right now. I've looked at eight billion eagles already.

How The Retarded Forger Found The Image: It's on the very first page of a Google Image search for "Eagle American flag." Second row.

Got It: The little sucker was hiding from me.
But I found it: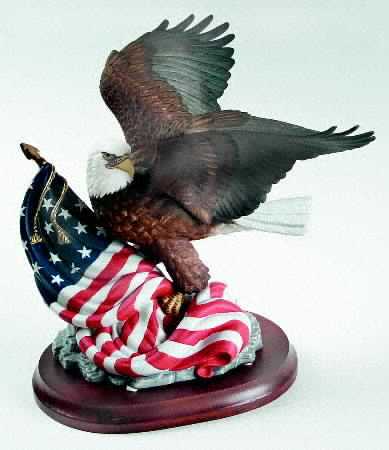 It's a Lenox China "Defender of Freedom" eagle figurine (scan down, click camera-icon for picture of the "Defender of Freedom."

Alas... While the "document" may be fake, it may be accurate. That is, a faked pdf that nevertheless accurately conveys the information in a real memo.
This WaPo story quotes from the "memo," which would fill me with joy that the WaPo's been punked, except for the fact than an embassy official in Iraq says that convoys have been backed up.
But does he really? Or is he simply accepting the Post reporter's "memo" as accurate and speculating as to what it would mean, if true? He never confirms the memo, note:
Instead of rice pilaf with turkey or fish -- Monday night's main entree, according to embassy spokesman Dan Sreebny, who said he topped it off with two cookies -- the staff would have to make do with military Meals Ready to Eat, freeze-dried concoctions with prescribed amounts of starch and protein, capable of withstanding parachute drops and remaining edible for three years after packaging."We've run out of some things," Sreebny said. "I miss my yogurt in the morning and my fresh-cut melon."

...

Sreebny, who said on Tuesday that the last supply trucks arrived in Baghdad two weeks prior, attributed the delays to paperwork problems on the border, traffic jams and "security issues." He said the embassy stocks three weeks of non-perishable food for use in the event of emergency, so no one was yet in danger of MREs.

...

In any case, American personnel assigned to the embassy are promised American food -- although Kuwaiti bottled water is acceptable.

"This has happened before, in terms of convoys," Sreebny said, although "this one may be a little bit longer than in the past. Then the food comes and we all gorge ourselves on apples and oranges and bananas again."
I dunno-- that document is fake. The military, I'm pretty sure, does not use pictures of Lenox China "Defender of Freedom" hummel eagles in its mastheads. And I sort of think it's a fairly major coincidence that this exact image is on the first page of results for a Google Image search of "American Eagle flag."
Surely the military has its own emblems and logos by this late date?
So I think that the document itself is fake-- and someone is attempting to gin up a rather minor convoy delay into something that threatens the feeding of our troops.
The Post article does in fact confirm there is a delay, but not that there is a theater-wide food shortage, nor that anyone's getting fed MRE's in base chow-houses. (The "memo" itself doesn't say this is happening, only that it might.)
It seems we either have a case here of fake but accurate, for real this time, or fake and also inaccurate, if the memo is entirely fake and forged to create the false impression of a serious delay in supply whereas none yet has occurred.

More... As commenters and Charles Johnson point out, while the document bears a date of "5/21/07" (which isn't the typical format for the date on official memos, I'm told), the pdf actually was created two days after the purported date:
Author: khanp

Created: 5/23/07 7:15:03 AM
Modified: 5/23/07 7:15:16 AM

Application: Acrobat PDFMaker 8.0 for Word
There are several possibilities here:
1) The PDF is completely genuine. This strikes me as so unlikely as to be hardly worth mentioning, but I'll toss ito out there as a possibility. In this scenario, the official issuing the internal memo could not find the proper eagle logo to put on the document, and so had to resort to a Google Image search for "Eagle American flag" to find a properly-patriotic and military-seeming logo. He came up with, it seems, a picture of a Lenox China "Defender of Freedom" eagle hummel figurine as the best possible method of branding his document as an official US memorandum.
2) The PDF is fake, but it is an accurate recaptiluation of the information found in the real memo, minus, presumably, the usage of a Lenox China "Defender of Freedom" hummel figurine as an official US military logo. Why this person did not merely fax or email the real memo is something of a mystery. Why take the genuine article and create a borderline-retarded forgery of it?
3) The PDF is fake, but the WaPo story is based on a real memo. The left is now circulating a crude forgery created by one of their goofier members in an effort to show they've got "sources." In this scenrio, of course, the left blogosphere's Fox Mulder-like "I Want To Believe" credultiy is underscored -- they'll believe anything so long as it casts Bush and the Iraq War in a bad light -- but the basics of the story are actually pretty much accurate.
4) The PDF is fake, and the WaPo relied on the exact same shoddy forgery for its story. This is a lot worse, of course -- if the WaPo is taken in by ridiculous shams like this, what precisely is the value of all this "painstaking confirmation and multiple-layers of rigourous editorial oversight" we've heard so very much about? In this scenario, a fairly routine delay of a convey has been trumped up into a theater-wide shortage of food by a comically amateurish forger who got his agenda right smack into Section A of the vaunted Washington Post. Slapdash, juvenile forgers: 1, the Washington Post's intitutional integrity and "multiple layers of rigourous editorial oversight," nil.
Which is it? Unless it's Possibility 1 -- what I'd like to call the "Retard Scenario" -- then either the left and/or the liberal MSM have a fairly major embarassment on their hands.
I've emailed the WaPo's reporter to inquire if it was this ridiculous hoax she relied upon in writing her story, or if she has a more plausible, less hummel-figurine-filled memo in her possession.
But I don't expect a reply.

More... I'll leave it to the expertise of Charles Johnson as to the exact implications of this:
Also notice that the PDF document is not a scan of a printed original, it's editable text captured directly from Word. So this PDF file was created from a Microsoft Word document, two days after the date on the so-called "memo."
Did the convoy delays also deplete the US military's stock of document-scanners, thus requiring the creation of this "original memo" in Microsoft Word two days after its puported date?

posted by Ace at
03:13 PM
|
Access Comments