« Media Spins/Spikes Disturbing Finding That Quarter of American Muslim Young Men Support Terrorism
|
Main
|
Another 26% The Media Will Ignore: Only A Quarter of Americans Support This "Piece of Shit" Amnesty Bill »
May 23, 2007
Johnnie "Pink Sapphire" Edwards: "War on Terror" Not Real, Merely an Ideological "Bumper Sticker"
Bumper sticker, eh? I dunno.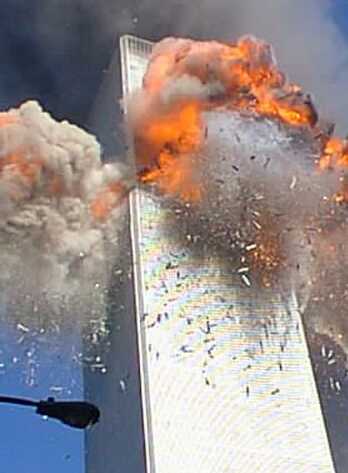 It seems too tall for a bumper sticker. Maybe if they had bombed something long and low, like, I don't know, the Jacobs Convention Center, that might have fit on a bumper sticker.
Also, I prefer funny bumper stickers about cats and such. Mass murder? Doesn't grab me. I like a good chuckle from a bumper sticker. I'm not sure really what the gag would be here.
Unfit to lead. I'm not even sure he's fit to vote for President, nevermind act as President.
Democratic presidential candidate John Edwards on Wednesday repudiated the notion that there is a "global war on terror," calling it an ideological doctrine advanced by the Bush administration that has strained American military resources and emboldened terrorists.

In a defense policy speech he planned to deliver at the Council on Foreign Relations, Edwards called the war on terror a "bumper sticker" slogan President George W. Bush has used to justify everything from abuses at the Abu Ghraib prison near Baghdad to the invasion of Iraq.

"We need a post-Bush, post-9/11, post-Iraq military that is mission focused on protecting Americans from 21st century threats, not misused for discredited ideological purposes," Edwards said in remarks prepared for delivery. "By framing this as a war, we have walked right into the trap the terrorists have set — that we are engaged in some kind of clash of civilizations and a war on Islam."

In the first presidential debate last month in South Carolina, Edwards was one of four Democrats — including Delaware Sen. Joe Biden, Ohio Rep. Dennis Kucinich and former Alaska Sen. Mike Gravel — who said they did not believe there was a global "war on terror." Front-runners Hillary Rodham Clinton and Barack Obama indicated that they did.
Of course, back in 2001, he was pledging his full measure of loyalty to the cause of fighting the "global war on terror" -- including taking out this Saddam Hussein feller.
But the circumstances changed. And by "circumstances," I mean "polls" and "extent of nutroots influence."
His change of heart, it seems, came to him in a dreamstate epiphany.

Well they couldn't teach you anything
You think you're such a looker
but no customer would come to you
unless she was hooker
Baby don't sweat it
You're not cut out to hold a job
No one wants their country led by a yob
Wipe off that angel face and go back to school

posted by Ace at
02:37 PM
|
Access Comments