« With Congress Theirs, DC Democrats Getting Laid More
|
Main
|
Tax Collections Soar, Deficit Plummets; Reporters, Liberal Economists Hardest Hit »
May 16, 2007
Protecting their Own
Remember this guy?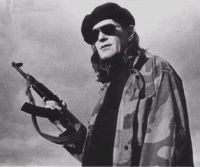 Looks like he might stick around after all.
The attorney for University of Colorado ethnic-studies professor Ward Churchill said Tuesday that the committee reviewing his academic misconduct case has recommended a one-year suspension rather than dismissal.

"We feel any discipline is not warranted, but at least (the committee members are) moving in the right direction," said Churchill attorney David Lane. "This will make it more difficult for Hank Brown and the regents to fire him."

The Privilege and Tenure Committee on May 8 gave its report to CU president Hank Brown, who has 15 business days to consider the case record. He could advise firing Churchill, closing the case, or another punishment short of termination.

The chairman of the committee, CU-Denver math professor Weldon Lodwick, said he could not comment.
Churchill is best known for calling victims of the September 11 attacks "Little Eichmanns," a comment which gained him national prominence. In the ensuing controversy, people started looking into Churchill's past -
which led to this.
The report on Churchill alleges that he engaged in plagiarism, misuse of others' work, falsification and fabrication of authority. Any one of these is grounds for dismissal, and yet this committee is recommending a slap on the wrist.
This is more about protecting tenure and a misguided notion of "academic freedom" than it is about ensuring the integrity of their university. They are too short-sighted to see the end result - that eventually, the abuses of faculty members like Churchill will lead to a deterioration of trust in higher education and in the long-term, more calls to end the practice of tenure.
And when that happens, academia will have no one but themselves to blame. The lesson here - police yourselves, or others will get fed up enough to do it for you.

posted by Slublog at
03:58 PM
|
Access Comments