« That New Ad
|
Main
|
Christians Sue To Prevent Muslims From Erecting Mosque »
May 09, 2007
Shock: Andrew Sullivan Takes Quiz, Determines He's The Supreme God of Christianity
You'd think that someone with a Messiah complex as profound as Andrew Sullivan would avoid publicizing the results of this quiz.
Or even publicizing the fact he took this one in particular -- he hasn't run the various "Which Superhero Are You?" or "Which My Pretty Pony Character Are You?" quizzes, now has he? Those he passes up on. The one about his (His?) own divinity? That one he goes for.
On one hand, he's Messianic narcissist and should know better to stay away from stuff like this. But on the other hand, he's also shameless and lacking any sense of irony or self-awareness.
And so he proudly announces he's God. Not a god. The God. His results:
Which God or Goddess are you like?

Your Result: The Christian God


You are the Holy Lord. You are the shepherd and those that follow you are your lambs. You are kind and patient, but when need be, you are vile and creul. You are often asked for advise or wisdom, and you willingly give it. Congratulations!! You are God!!
Surprisingly, he ranked low for the result You are your own God or Goddess, but I have to think he was deliberately avoiding answers that would lead to that quite apppropriate finding.
The Church of Andrew: Coming to a Starbucks near you. Have you read the New Bible, a.k.a. The Conservative Soul, by the way? It's like Dianetics, only a tad more latitudinarian as regards psychoactive drug use.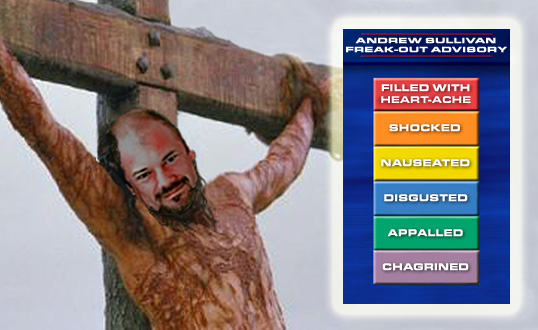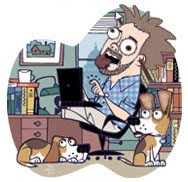 Credits, as usual, to Allah for the first and McGurk for the second.

posted by Ace at
04:49 PM
|
Access Comments