« Clear Majority Of Democrats Either Believe Bush Knew of 9/11 Attack In Advance Or Aren't Sure If He Did Or Not
|
Main
|
Hollywood Loves A Movie About Tyranny And Political Oppression »
May 04, 2007
B R E A K I N G: Fred Thompson's Campaign Ends In Racist Fireball: LAT Discovers Videotape of Him Using Anti-Semitic Smears, "Fondling" Mein Kampf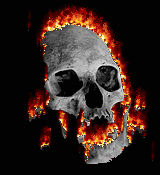 But can we forgive a man who reported acted very much like "a white supremacist, spewing anti-Semitic comments and fondling an autographed copy of "Mein Kampf"?"



Although the LATimes is notoriously biased against Republicans -- witness their absurd politically-timed overcoverage of age-old allegations of Schwarzenegger's "busy hands" -- I have to say that in this case, the LAT is performing a valuable public service in publicizing this noxious videotape of Thompson spewing Nazi hatred.



Correction: What? Huh?
Oh. It turns out the videotape shows him playing a white supremacist character on an ancient episode of NBC's gangster-drama Wiseguy.
I guess that changes things a little. Maybe it's not proof he's a racist, but surely it's very troubling at the very least.
His colleagues say that he was just an actor putting everything he had into playing the role of a charismatic racist...
His colleagues say that. It's not like the writer can say, definitively, on his own authority, that Thompson was "just an actor" playing a role, speaking lines written for him by someone else.
No-- that would be going too far without enough evidence to back it up. So, for now, we'll just have to settle for his colleagues saying this was just a role.
But who knows what it really might have been? The LAT hasn't reached any firm conclusions.
But the LAT has found something also quite troubling -- Thompson's refusal to address this scandal publically.
...

The role is not something Thompson, who is in Orange County for a speech today, has talked a lot about in recent years. (His spokesman did not respond to several requests for comment this week.) In an appearance before the American Bakers Assn. in Phoenix last year,
What is Fred Thompson hiding? Why does he so steadfastly refuse to comment on a 19 year old cheesy NBC crime show starring inanimate block of wood Ken Wahl?



How can we trust a man who refuses to forthrightly address the big issues?
Thompson mentioned that he had a part on "Wiseguy," but he did not go into details.
Ah, hoping to immunize himself from Wiseguygate by alluding to it as if it were just some trifle.
Couldn't it be that Thompson was attracted to the role precisely because he himself is an anti-semitic, Hitler-worshipping white supremacist? Indeed, it could just be that. The LAT finds this amazing "Gotcha!" quote which very nearly proves Thompson is a Nazi:
He summed up his acting career this way: "I played a CIA director, FBI director, an FBI agent, a senator, an admiral, a White House chief of staff, corporate execs and myself twice," Thompson said in the speech. "Some might say I was playing myself on each of these occasions. In each of these roles it seemed as if I had either known the guy I was playing or someone like him.

"So instead of studying admirals or generals, etc., I envisioned that I, Fred Thompson, had become an admiral or general and played myself…. The range was narrow, but I was establishing myself as the character actor for authority figures."
He admits he always plays himself. He played a Nazi. Therefore, he played the Nazi as himself. Ergo, Fred Thompson is a Nazi. Q.E.D.



Also note he says he played himself twice. Well, I know of that movie where he played himself during his prosecuting days. That leaves one other role in which he played himself.
Which could it be? Obviously, he played himself in the Nazi role, though he went by a different name.
The LAT then claims that "conservative bloggers" are blogging about this.
Who?
Well, one conservative blogger -- Patterico.
And when did he blog about this "problem"?
Well, two months ago, when he said only that the MSM will find some way to "smear" Fred Thompson.
Note he wasn't talking about the Wiseguy role -- he just generally predicted the MSM would smear Thompson.
How absurd!
The LAT is very prescient -- they reported "conservative bloggers" were writing about this issue when not a single blogger anywhere wrote about this before the LAT piece exposing Wiseguygate. They were 100% right, of course -- just precognitively right.
They see into the future and shit.
Now, maybe I got a little carried away with the flaming skull and sirens.
But still -- we've just discovered the LAT can see into the future. It's reporting claims of "conservative bloggers" writing about this issue before that actually happens.
And that, at least, deserves one siren.


posted by Ace at
04:56 PM
|
Access Comments