« McCain Polls Ahead of Rivals in NH, IA, and SC
|
Main
|
The Time Traveller »
May 02, 2007
"Worst Game I Ever Played"
Trogodor, a dumb-looking dragon who for some reason has one beefy, bicep-flexing human arm, tries to avoid being "sworded" by knights and "arrowed" by archers to stomp on peasants and achieve "burnination."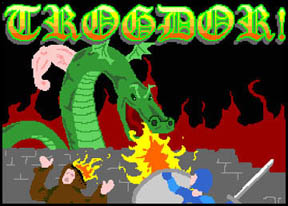 I think (hope) this game is deliberately inept and illiterate (instead of lives you have "mans").
This site calls Trogodor the internet's inexplicably-beloved icon, which means, yes, it's old.
Thanks to Armchair In Sin.
It's So Old... There were references to it on Friends and Buffy, which are themselves old.
Here's a funny animation about the creation of Trogdor.
And no, I never heard of this.

posted by Ace at
12:59 PM
|
Access Comments