« William F. Buckley Would Call Gore Vidal A Little Queer, But Then He'd Have To Go To Rehab
|
Main
|
Wren Cross Returned To Wren Chapel »
March 07, 2007
Carbon Offsets For... Farting
For 35 Australian dollars (about 27 U.S. dollars), customers of Sydney-based Easy Being Green can offset a year's worth of carbon emissions linked to their dogs, from trips to the vet to, yes, breaking wind.

Making your cat carbon neutral for a year costs U.S.$6, while U.S.$16 offsets two years of flatulence from that special someone.
The Church of Gaia is now selling indulgences for farting.
But it's not a cult or anything.
Well, methane is a much more potent greenhouse gas than carbon dioxide (the dangerous, toxic atmospheric pollutant formerly known as "air").
So... how much is this guy spending to protect the environment from his lethally fat ass?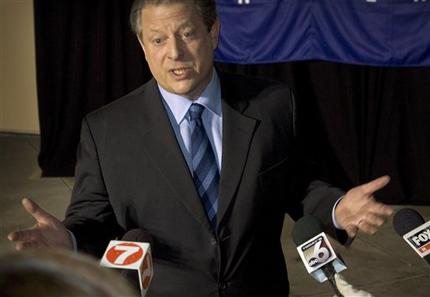 The answer had better not be "zero." Because this fat sack of fat is putting my grandchildren's lives at risk everytime he asks for steak sauce.
Meat is murder. Al Gore's thunderous hamhocks doubly so.
And very uncool for Al to invest in "green energy" companies which just happen to have the benefit of sheltering his green money from taxation.

Green Dildos? In Canada, "green sex" is now the rage. Supposedly. Frankly, I kind of doubt that sex itself has ever been the rage among Canadians, but whatever.
You've heard of green cars, green tourism and green weddings. Now Canadians should ready themselves for green sex.

For those who like to make love to the soundtrack of the global warming documentary An Inconvenient Truth, Greenpeace has released a list of strategies for "getting it on for the good of the planet," suggesting "you can be a bomb in bed without nuking the planet." TreeHugger, an online magazine edited by Ontario's Michael Graham Richard, has just published a guide on "how to green your sex life." The famed adult store Good Vibrations announced last week they would no longer sell sex toys containing phthalates, controversial chemical plasticizers believed by some to be hazardous to humans and the environment alike.

And throughout Canada and the U.S., people who want to pleasure the planet can now buy everything from bamboo bed sheets to organic lubricant and "eco-undies."

"Green living is getting sexy," says Jacob Gordon, author of TreeHugger.com's recent green guide for the bedroom.
Yeah. Sure sounds like it. There's nothing sexier, really, than regulating your breathing patterns during sex so as to reduce hazard carbon dioxide output.
Why, sometimes I even tie a nylon rope around my neck while I'm having sex to partially asphyxiate myself during orgasm. Oh, wait, I saw that on a TV crime show. Which TV crime show? All of them, I'm pretty sure.
...

"It feels like people are just waking up to the fact the planet is suffering under our uses of it," says Rebecca Denk, business manager for the adult toy store Babeland. The U.S. company, which sells to Canadians via Babeland.com, just introduced an "Eco-Sexy Kit" featuring a phthalate-free vibrator, soy massage candle, a natural lubricant with no animal-testing or derivatives, and condoms.

"We have to look at every piece of our lives, including our sexuality, and ask: How is this healthy for me, and how is this healthy for the planet?" says Denk.
Just sounds like another excuse for women to avoid giving head.
Other ways of "greenwashing" the bedroom, as outlined by TreeHugger and Greenpeace, include turning out the lights, not buying PVC or vinyl accoutrements...
PVC? Pipe? Are these people having sex or trying to irrigate their abdominal cavities?
...ensuring S&M paddles are made from sustainably harvested timber, using organic massage oils, showering together, using bamboo bed sheets (they come from a rapidly renewable resource and are said to be "super sexy"), and wearing lingerie made with renewable fibres such as hemp (Enamore), bamboo (Butta) and other organic goodness (GreenKnickers, Buenostyle, Peau Ethique).

Gordon notes there's even an eco-friendly adult website dedicated to naked vegetarians, appropriately called Veg Porn.
Eh, don't bother going there. I checked it out and it's just a bunch of pictures of steaks, chops, and meatballs.
Think Globally, Fuck Locally.
The world has gone insane. And yes -- I do believe this is the left's way to avoid taking terrorism seriously.
After all -- the polar bears. The polar bears!
Thanks to Slublog, who right now is walking around with phthalate-free butt-plug.

Bonus: Al Gore Effect Strikes Again. A snow advisory issued on day of "global warming" hearings.
God.
Hates.
Al.
Gore.


posted by Ace at
11:43 AM
|
Access Comments