« By The Way: I'm Sick Of Giuliani Posts Myself
|
Main
|
Poland Launches Nationwide Manhunt For Alleged Flatulant »
March 05, 2007
Thanks, Ann!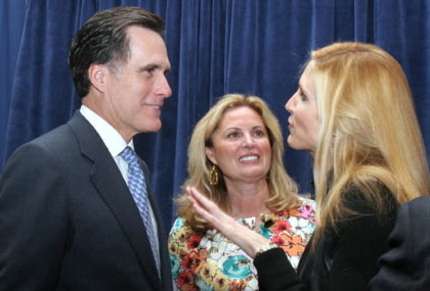 And check out Romney's praise of Coulter near the end of this clip:
She fragged a decent, capable conservative candidate.
But she's more important than Romney. After all, she "stands up" to liberals in ways no mere president ever could.
Via a gloating, simply delighted Andrew Sullivan.
Question:
If Andrew Sullivan is happy, shouldn't you be saddened?

PS: That video was shot by the son of Sydney Blumenthal, so you know about what you're getting.
Seems he's got all of his father's integrity but none of his brains. Turns out that "suspiciously pale" National Black Republican Association representative was in fact the husband of the woman attending the booth almost all of the day, but just left hubby there for a bit alone.
Guess what color skin she has?
Barnett... on Coulter.

My Giuliani-Pimping Stealth Attack on Mitt Romney: At least that's what someone speculates is the reason for this post.
Please. I like Mitt Romney a lot. I expect the contest come down to Giuliani and Romney, and I would be pleased to have either as a nominee. Given the fact that I emphatically do not think Giuliani has this all sewn up by any means -- he hasn't shifted enough to the right, which not only makes him less attractive to the Republican base when they find out his positions, it also makes him less attractive to me, personally -- I have no interest in knocking Romney.
I'd say it's 50-50 right now. I like Dick Morris' analysis that first will come quarter-finals in the Center-Right and Right brackets (Rudy vs. McCain, Romney vs. whichever other social conservative rises to challenge him), then the winner of the Center-Right vs. Right candidates. And then, finally, the championship of Republican nominee versus Democratic nominee.
One good of Giuliani's candidacy which few conservatives can object to is that Giuliani is at least beating McCain in the Center-Right bracket, making it less likely McCain will be our nominee.
But while I'm more in favor of Giuliani, I like Romney an awful lot, and could give a fig about his flip-flopping. I'd like to see more cynical, calculataing flip-flopping from Giuliani, but apparently his pride won't permit it. (Or, again, he just might be a lot smarter than me.)
If it wasn't clear from the post, I'm not blaming Romney for this. Romney had no idea what Coulter would say when he mentioned she'd be following him. He's an innocent bystander in this -- well, innocent of everything but a naive belief that Ann Coulter has some sort of functioning internal editor.
My point here was to convince those who are defending Ann on the grounds that she "stands up to liberals" -- well, yes she does. She also winds up bringing disrepute on those who could "stand up to liberals" far more than she could ever hope to. A President Romney would have a lot more influence on the Supreme Court's makeup than Ann Coulter ever could, her useful criticism of Harriet Miers notwithstanding.
It's a tenet of the fightin' fightin' nutroots that you spray your invective around indiscriminately, without thought to its effectiveness or blowback, because it's the fightin' fightiness of the fight that really matters, not actual results. Or prudence. Or simple decency.
I reject that. Most conservatives do, at least when they see such infantile tactics used by the left. But when it's Ann, well, many conservatives find themselves defending the fightin' fighty fightiness of the nutroots.
To some extent I understand that -- Coulter was for many, and is still for some, a beloved figure.
She was once for me.
But it also occurs to me that if we had told her to knock it off earlier, she might be more responsible now.
Remember when she suggested the 9/11 hijackers should have flown their planes into the New York Times building?
I defended that-- then. It was a joke, I said.
And yet, of course, when Michael Moore suggested that the terrorists should have killed red staters (as they'd voted for Bush, unlike most New Yorkers), I, and all other conservatives, were outraged.
As we should have been: It's reprehensible to suggest that the terrorists merely chose the wrong set of Americans for murder. It blurs the line -- which should be kept bright, sharp, and inpentrable -- between political opponents who are to be argued against in the political arena and foreign enemies who are to be killed by the thousands.
Yes, Ann was speaking extemporaneously there in an interview, and not writing. And that excuses the remark to some degree -- we all say stupid things when our mouths move more quickly than our brains. But she never truly apologized for that. She just said it was a joke, and moved on.
And we didn't demand anything more of her than that.
And so she's learned: She can say whatever she wants and the more controversy she can generate, the higher her book sales, and she never has to fear losing the core audience that makes her rich. She just has to keep writing the occasional sharp column, speak the occasional offensive slur or judge-assassination "joke," and she'll just get more and more popular.
It was a bad precedent to set, letting a fellow conservative joke so shamelessly about the "good outcomes" that could have flowed from the 9/11 attack, had only the terrorists chosen their victims more congruently with conservative desires. Liberal media bias is irrefutable, but I doubt that many have "joked" so cavalierly about 9/11 and paid so light a price.
I excused her then, and it was wrong to do so. Had conservatives spoken to her with one voice then and told her in no uncertain terms that joking about terrorists helping out the cause by killing one's political opponents, she might have begun editing herself within the limits of civil discourse.
But we didn't, and so she hasn't. Why should she?

posted by Ace at
12:35 AM
|
Access Comments