« Moderately (7) Cute PETA Lunatic Strips While Propagandizing
|
Main
|
Weird News »
January 20, 2007
Steven Seagal Contest Winners
This was one great contest. When the call went out, you guys responded in droves, proving once again that you are, hands down, the best bunch of commenters anywhere on the Internet. Thanks a bunch to each confused, unwashed one of you.
Before we start, let's give some credit where credit's due. The original idea came from a post by Levy over at The Daily Gut, so let's acknowledge him.
For anyone who missed them the first time, the two Seagal threads are here and here.
The contest was judged according to standards that made no pretense of either fairness or balance. I disqualified myself, but beyond that the winners were chosen with regard to nothing more than my own capricious whims. I tried to do a top ten, but such was the quality of so many entries that I had to settle for a top thirty-seven or so. And even that number left out a lot of funny stuff.
But enough talking. Let's meet the winners.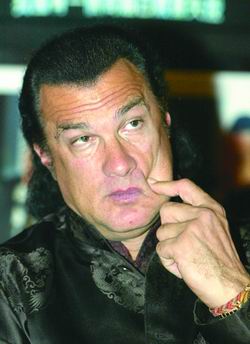 First up are the Honorable Mentions, also known as the ones I couldn't squeeze into any coherent category.
Steven Seagal is...Licking Himself Like A Beast (drolmorg)
Steven Seagal is...Not Experiencing Outbreaks (Achmed)
Steven Seagal...Has Horizontal Strategy (anonymous)
It works on so many levels.
Roc Ingersol notes that "you can never bust Wickedpinto's chops enough." Therefore:
Steven Seagal is...Breaking A Bitch
My fellow coblogger lauraw contributes the next two:
Steven Seagal is...Slower These Days
Steven Seagal is...Not Full Yet
Which may help explain skinbad's observation that:
Steven Seagal is...Adopting An African
Next, let's honor those that displayed Humorous Incongruity.
Steven Seagal is...Sharing His Feelings (Rosetta)
Although not his cheese fries.
Steven Seagal is...Considering The Third Stage Marxist-Feminist Perspective (get_in_the_van_498)
Steven Seagal is...Summarizing Proust (adamthemad)
Steven Seagal is...Critiquing Pure Reason (Monty)
Stevan Seagal is...Your Waiter Tonight (zorarchus)
And rounding things out, Pupster voices everyone's secret wish:
Steven Seagal is...Accepting The Oscar
Moving along: No contest here would be complete without Dorky Gaming References:
Steven Seagal is...Suspended For Profanity (Lapsed Leftist)
And I know how he feels.
Steven Seagal is...Rolling Wisdom Check (some guy>)
Ponytail Check probably would have been more promising.
Steven Seagal is...Camping The Rail (get_in_the_van_498)
An excellent Quake 3 nod, and exactly what you'd expect a fat guy to do on CTF4.
The following entries fall under the Seagal Is A Perv rubric, and are two of the creepiest images you could ever contemplate:
Steven Seagal is...Mentally Undressing You (thaitied)
Steven Seagal is...Sniffing Bicycle Seats (Basilisk)
Congrats, Basilisk. I broke the late-entry rule to put that one in.
Now for a couple of Seagal Movie Parodies. There were a number of these, but my favorites were:
Steven Seagal is...Above the 'Slaw (Blaytor)
Steven Seagal is...Hard To Fill (Geo11)
Our final category is Generic Movie Parodies, the essence of which is to change a movie title in order to make a fat joke. These were the hardest to decide on, but here are the ones that made the cut:
Steven Seagal is...Plus-Sized Ninja (sandman arriveth)
Steven Seagal is...American Bantha (eman)
Steven Seagal in...From Russia With Love Handles (bbeck)
Steven Seagal in...A Few Good Menus (thaitied)
Steven Seagal in...A River Of Pork Gravy Runs Through It (benrand)
Steven Seagal is...Braising Arizona (nico)
Steven Seagal is...Fat On A Hot Tin Roof (Nice Deb)
And to round out the category, we need to honor Monty and Rosetta, whose spectacular efforts kept the thread going and kept me up way too late reading them.
Monty's are:
Steven Seagal in...To Kill A Mockingbird And Cook It And Eat It
Steven Seagal in...Fridge On The River Kwai
Steven Seagal in...Triumph Of The Grill
And Rosetta's:
Steven Seagal is...Gunga Dinner
Steven Seagal in...The Waffle House Rules
And I've chosen to render this last one as a haiku, in honor of Steven Seagal's eastern sensibilities:
Steven Seagal in...
The Good, The Bad, And...Hey! Are
You Gonna Eat That?
Well done, Rosetta. You're pretty funny for a chick.
And now the moment of truth. It goes without saying that choosing the Best Overall was a tough decision, but such is life. So let's all give Cuffy Meigs a big slap on the back for his outstanding contribution:
Steven Seagal in...The Usual Sous-Chefs
It was clever, it adhered to the original three-word rule, and it made me laugh out loud for about five minutes.
Excellent work, everyone. I hope you all enjoyed this as much as I did.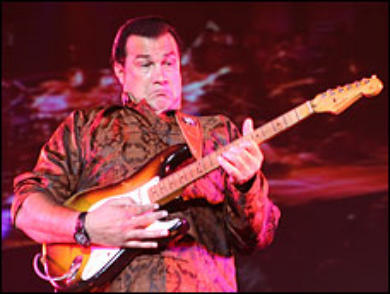 Steven Seagal is...Going To Kill Us All If He Ever Sees This

posted by AndrewR at
12:14 PM
|
Access Comments