« US Strikes Al Qaeda Targets In Somalia; Targets May Have Had Connection To 1998 Embassy Bombings (With Video)
|
Main
|
Mancake! »
January 08, 2007
Peace Through Strength, Strength Through Cheesecake
Gina from PinupsForVets wrote to me, or rather to "Hello!"
Hello!

First of all, I wanted to thank you so much for posting the first time about my PinUp Calendar project. I had some sales SPECIFICALLY because of your post and I can't thank you enough for that.
I'm going to ignore the fact that she doesn't seem to know even my fake blog name and just live the fantasy.
Because of the wonderful blog world, I was contacted by... the Company Commander for the Medical Hold Platoon, Balboa Hospital, San Diego California.

He asked me to come down to visit the Marines in a few weeks. They treat many wounded Marines from Iraq and Afghanistan there. I would love to be able to bring 55 calendars to all of them. So, if you can mention this the next time you post, I would appreciate it so much!!! And of course, if you can add a picture along with the post...I know that always helps.
That marine commander wrote that I should do what she says.
Ummm... okay.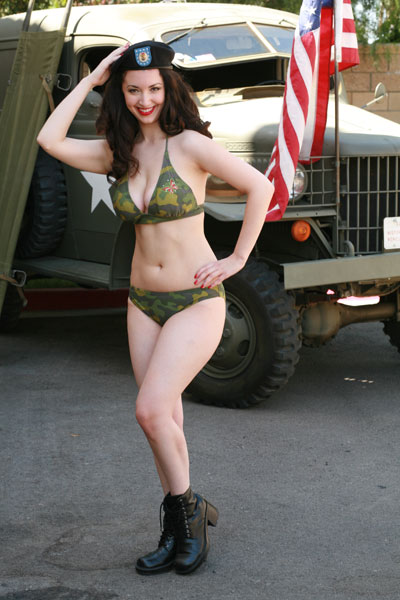 Number of ej-- Eh. Who has time to keep track.
I was told there was to be no math on this blog.
I feel like Bob Hope. With serious wood.
AF Video: "Herosmith" of the AEF10 says his fellow flyboys put this video together, and I believe him.
Since I Did Some Covers Today... This goes well with the last video.
Usually bands totally re-arrange songs they're covering because they wisely want to avoid comparisons with the originals. The Wallflowers threw that rule out the window for this one and more or less just re-did Bowie's arrangement.
I'm not saying it's better than Bowie. But it's good enough to not suffer much for the comparison.

posted by Ace at
10:42 PM
|
Access Comments