« "Ghost Riding" Kills Two
|
Main
|
Saddam Hanged (Well, Eventually This Headline Will Be Correct) »
December 29, 2006
TSA Staff Given "Sensitivity Training" For Muslims On Pilgrimmage; Taught Jihad Is Merely "internal struggle against sin"
Yup, purely an "internal struggle."
Here, some jihadists prepare Nick Berg for victory in his own internal struggle against sin. That sin? Having his head contiguous with his neck, which is considered sinful for nonbelievers according to the Koran.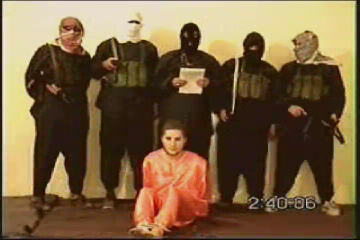 Hey, in any struggle -- even in a purely "internal" one -- there are going to be some collateral casualties here and there. Can't make an omlette without sawing the head off some Jews, after all.

Thanks to Village Idiot.

Hey... Maybe it would be time better spent were we to stop teaching non-Muslims that "jihad is a purely internal struggle against sin" and maybe start convincing more actual Muslims this.
Just brainstorming here. Thinking outside the box. Noodlin'.


posted by Ace at
05:11 PM
|
Access Comments