« Happy Hanukkah
|
Main
|
Predictably Boring Flame Thread »
December 17, 2006
Hamas/Fatah Ceasefire Can't Possibly Fail
Yup. Things sure are lookin' up for ol' Palestine:
Violent clashes continued in the Gaza Strip late Sunday, even after officials from the feuding Hamas and Fatah factions announced that a cease-fire agreement had been reached.
I know, I know, that sounds bad, but I'm sure there's a good explanation. Somebody probably just forgot to tell the masked gunmen that it was time to stop slaughtering one another. They'll stop as soon as they find out.
But even after the truce was signed, gunfire could still be heard near Abbas' offices in Gaza City, witnesses said. Other bystanders reported a major gun battle near Fatah official Mohammed Dahlan's house in Gaza. Also, minutes after the cease-fire deal was announced, word came that a Palestinian Authority security officer abducted earlier in the day had been executed.
Oh.
Well...jeez, I'll admit: This doesn't bode well. But they must want the ceasefire to work, right? I mean, wouldn't they rather work at creating a viable economy and safe atmosphere to raise their kids in instead of running around like an angry mob of Huns? Don't they know how awesome it would be to have universal health care?
Maybe they just need some gun control laws.
Hamas gunmen opened fire at a large political rally by the rival Fatah movement earlier Sunday, wounding three people, Palestinian security officials said. An estimated 100,000 Fatah supporters were participating in the rally...Also Sunday, two mortar shells were fired at a Force 17 postition near Palestinian Authority Chairman Mahmoud Abbas' residence in Gaza, wounding four members of the elite presidential guard. Abbas is currently in the West Bank.
You know what? Fuck it. Getting these guys to stop killing each other is like trying to make your autistic brother stop passing gas in church. You explain why it's wrong, and he says he understands, and then you get there and he lays a fart right in the middle of II Corinthians.
The truce was announced at a press conference in Gaza City after midnight, but representatives of Fatah and Hamas did not appear at the conference, leaving the announcement to Rabbah Muhanna, a senior official in the small Popular Front for the Liberation of Palestine. "Both sides are serious about the agreement," Muhanna assured reporters.
He then went on to add: "And anyway, why are we fighting one another when we could be fighting the Jew?"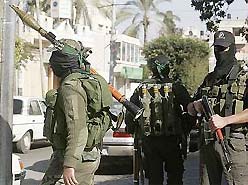 Peace: So close you can taste it.

posted by AndrewR at
08:47 PM
|
Access Comments