« Bad Santa
|
Main
|
Gulf States To Cooperate On Nuclear Program? »
December 10, 2006
British Researchers To Create Human/Animal Embryos
From the Telegraph.
The article is titled "Fatherless Babies in Fertility Revolution", and is about changes to Britain's fertility laws in general, but that's not the half of it:
One of the key proposals would allow research on test-tube embryos that were part-human, part-animal — referred to as "chimeras".
Yeah, I'd say that's pretty damn "key", alright.
Anyway, the writer, whose seems to be going for the Understatement of the Year award, goes on the say that
The creation of combined human-animal embryos under licence will be popular among stem-cell researchers, including a team from the North East England Stem Cell Institute, which has submitted plans to create a human-cow chimera embryo. However, it will be bitterly contested by reproductive ethics campaigners who brand such ideas "abhorrent".
So if you're half cow and suffer from crippling quadriplegia, with this new technology you'll soon be able to graze and be milked by your human masters again.
Not that the scientists don't know where to draw the line:
Some medical advances will be outlawed, including the possible creation of a child by combining genetic material of two women, which would render males redundant altogether.
Eh, without the Y chromosome they wouldn't have been able to make a male anyway. Nice try, girls!
Now, this human/animal hybrid business puts us deep into some seriously scary Island of Dr. Moreau territory. They're going to have to invent a whole new field of ethics just to wrestle with the questions that are going to come up.
On the other hand, we may finally get an answer to the eternal question: Who wins in a fight between a man-beaver armed with a tire iron and a pit bull/pterodactyl with a prehensile tail?
My prediction: The man-beaver. He'll cunningly hide in his dam until his adversary falls asleep hanging upside-down in a tree, which he will then chew down with his rugged incisors. Then he'll finish off his prey with the tire iron while it's still groggy and stunned.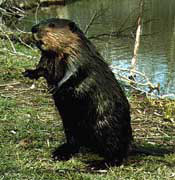 Well fought, noble warrior.
Science rules.

posted by AndrewR at
10:35 AM
|
Access Comments