« Hollywood Among World's Biggest Polluters
|
Main
|
Iran & Syria Plan To Overthrow Lebanese Government? »
November 14, 2006
Huge: Time Magazine Deliberately Distorted Lebanon Reportage To Bash Israel
This is pretty big. Remember this photo?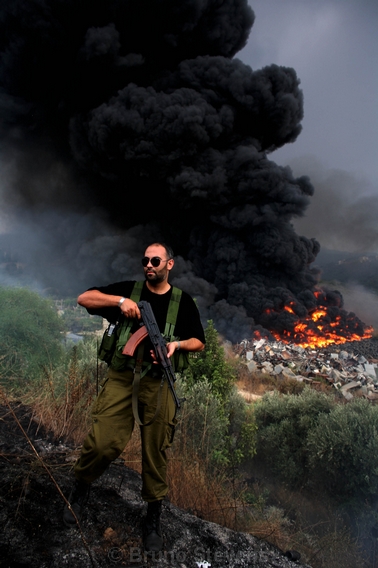 It appeared on Time magazine's cover, illustrating the wanton destruction Israel was wreaking on Lebanon. And, supposedly, the wreckage of an Israeli jet shot down in noble defense of the oppressed Lebanese.
In the Lightstalkers forum, where pro photographers post, the photographer who snapped the picture explains what it depicted -- and how Time refused to accurately represent what it depicted.
Snapped Shot seems to be the first to find the photog's explanation. Here's what he says:
This caption [delivered with the photos to Time] clearly says that there is no proof that an Israeli jet had been shot down and that the objective was indeed to destroy a legitimate military target.

...A week later TIME published this image shot at the same time as the first:
They choose to caption it this way (I had NO control in this matter), they HAD my original caption: "The wreckage of a downed Israeli jet that was targeting Hizballah trucks billows smoke behind a Hizballah gunman in Kfar Chima, near Beirut. Jet fuel set the surrounding area ablaze."
Is that bad? It gets worse. Allah notes the photographer explained the situation more thoroughly in a subsequent caption/report:
Kfar Chima, near Beirut, July 17, 2006 The Israeli Air Force bombed a group of Hezbollah chartered trucks parked on the back of large Lebanese Army barracks, at least one of these trucks contained a medium range ground to ground missile launcher, at least one missile was hit, misfiring high into the sky before falling down and starting a huge fire in the barracks' parking lot.
That makes three representations thusfar by Time:
1) Hezbollah did not score a huge victory by shooting down an IAF jet.
2) The target was clearly legitimate.
3) Not only was this a legitimate Hezbollah target, it was parked on a Lebanese Army base, demonstrating cooperation between the Lebanese Government -- depicted as an innocent and abused third-party to this conflict by the media.
Is that bad? It gets even worse.
LGF notes Time refused to run a different picture which showed a Hezbollah rocket launcher disguised as a "civilian truck" parked at a Lebanese army base.
In the photographer's own words-- describing a photo Time wasn't interested in:
This is a very important piece of evidence showing probable collusion between Hezbollah and the Lebanese Army, there is little doubt that the Lebanese Army was aware of the presence of at least one missile launcher and at least one large missile on their parking lot. The size of the launcher, destroyed a couple of days later from the ground by an unknown party suggest missiles 10 to 14 meters long.
They didn't just have the photographer's word on this -- they had the photographic proof! And yet they refused to run the picture at all!
And re-wrote the photo caption -- the man-at-the-scene report by the photographer -- to triply propagandize for Hezbollah and Lebanon, knowing their caption was 100% false.
If heads don't roll over this, I don't know what to say. This is the sort of thing that should be a crime, punishable by imprisonment, except for the fact that any such law could be so easily abused to restrict press freedom.
Still: No, we can't make this illegal. But damnit, we ought to be as outraged as if a serious felony were committed.
LGF notes this isn't the work of some local stringer who might be (perhaps understandably) biased in favor of the Lebanese.
No, it was Time magazine's own photo editors who did this.
Names, please.
The Actual Accusation: You can read the photographer's story at Lightstalkers.

posted by Ace at
03:51 PM
|
Access Comments