« Giuliani: Kerry Meant What He Said
|
Main
|
Steve Harrigan Waterboarded On Fox News »
November 03, 2006
MAJOR UPDATE: JOHN KERRY'S OWN WEBSITE CLAIMS HIS "JOKE" WAS "RIGHT EITHER WAY" !!!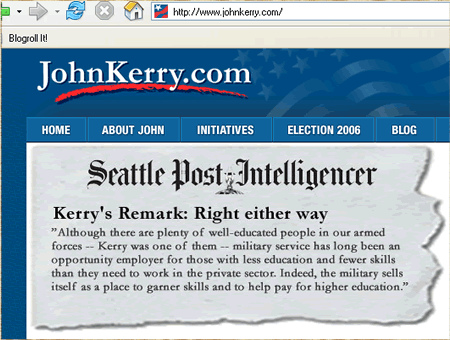 His website links a Seattle Post-Intelligencer editorial saying that, whether he meant it as he claims as a slam on Bush, or as a slam on the troops' lack of education, the remark was truthful and accurate either way.
If Kerry would never even entertain a thought which might denigrate the trooops, why does his website link an editorial -- in his defense! -- doing just that?
Why is John Kerry himself claiming that his "joke" was accurate under either interpretation, including the one he claims to deny?
Hot Air had this earlier, but I guess I didn't notice it.
And Dan Riehl, too. He says Kerry just "unapologized."
I thought that liberal democrats and bloggers would play this game of "it was a joke about the President, but it was also quite true as regards the troops."
I never imagined John Kerry himself would attempt this.
Which is, Johnny? Is it true, or is it not true?
If it is true that troops are uneducated dolts with no other options, as your Seattle P-I editorial suggests, how the fuck can you stand up there and claim you never would dream of saying something so hateful?

BREAKING: John Kerry's staff just issued a statement that this link was "intended as a joke about President Bush."
They will soon be providing the correct version of the link, as it was intended to be, which links to an interview with Audie Murphy, with "The Halls of Montezuma" being hummed in background.

By the way... As people are asking, I'll just note it for the record: No, there's no bad-blood feud between Allah and I, or anyone who disagrees on this.
I might say that if you don't make yourself smart and educate yourself, you'll get stuck believing Kerry's asinine double-talk, but it's meant in good fun, though really, people who disagree with me are suffering from severe nitwitism.
But that doesn't make you a bad person.
It just makes you military material.


posted by Ace at
11:00 PM
|
Access Comments