« Anonymous Firefox Browser Released -- Michael
|
Main
|
Let's Go To Six Flags For Lunch »
September 22, 2006
F-14 Retired -- Michael
The coolest plane ever . . .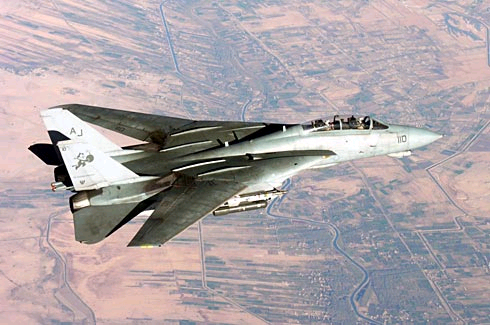 . . . will no longer be patrolling the Danger Zone.
By Tom Vanden Brook, USA TODAY

VIRGINIA BEACH β€" Today the Navy holsters the F-14 Tomcat, the top gun in its Cold War arsenal and one of the most recognizable warplanes in history. Maintenance costs for the F-14 have soared, and its replacement, the F/A-18 Super Hornet, is more versatile and cheaper to maintain.

The Super Hornet is unlikely to surpass the F-14's following. Furiously fast, deafeningly loud and lethal to enemy aircraft, the Tomcat had attained legendary status by the 1980s. The 1986 film Top Gun, in which Tom Cruise portrayed an F-14 pilot in training, cemented the supersonic warplane's reputation in the popular culture.

"There's something about the way an F-14 looks, something about the way it carries itself," says Adm. Michael Mullen, chief of naval operations, the Navy's top officer. "It screams toughness. Look down on a carrier flight deck and see one of them sitting there, and you just know, there's a fighter plane. I really believe the Tomcat will be remembered in much the same way as other legendary aircraft, like the Corsair, the Mustang and the Spitfire."

posted by Ace at
05:40 AM
|
Access Comments