« What If They Threw A Pro-Israel Rally And No One Came?
|
Main
|
"300" Trailer »
September 21, 2006
Lefties ♥ Mahmoud Ahmadinejad
Matthew "Boycrush" Yglesias:
I keep talking about this with people in real life, but it deserves a blog mention as well -- Mahmoun Ahmadinejad has a pretty sweet hipster style. It all starts with a beard not unlike the one I and many of my twentysomething male friends sport. But it goes deeper. The man went without a tie to address the UN General Assembly. And I was in a bar where the TV was showing his interview with Anderson Cooper (it's DC, these things happen) and while there was no sound, he certainly looked witty and charming. There was also this clip of him walking down some hallway shooting the shit with Kofi Annan. It's like diplomacy! Bush should try it. One gets the sense that he's getting his stody red tie-wearing ass kicked this session by sundry third world goons and it's really not a proud moment for the United States.
Note to Bush: Grow a beard; wear a ratty old Ocean Pacific longsleeve and Tevas; address the UN while sucking beer out of the tubes of a beer-hat.
Thanks to Allah.
Sullivan is, of course, equally smitten, though he's more careful about larding up his post with attacks on Ahmadinejad in his usual hyperbolically emotional style.
Sullivan also none-too-subtly compares Ahmadinejad's fundamentalism-engendered serenity too Bush's:
The serenity may also come from his own fundamentalist psyche. There's a reason fundamentalism is popular. Unlike other forms of faith, it relieves the believer of almost all responsibility for any of his doubts, it surrenders everything in a person's psyche to God's will, it appeases all anxiety and reassures away every question. And so, in many cases, it can be a source of great goodness, unleashing compassion and service and amazing resilience. Look at how fundamentalism created, say, the Salvation Army. But in others, it can become the constant absolution and rationalization of almost any action. It can justify torture. It can legitimize all sorts of ugly means because the motive is deemed pure. In a religion like Islam, where reason has been eclipsed for a very long time, the absence of oxygen for the doubt that makes faith both real and reasonable is acute. The combination of that psyche with naked political cunning is one of the most dangerous combinations there is. We are looking at a man who absolutely believes he is right...
It is an article of faith among lefties, such as Sullivan, that they are more "open-minded" than the religious crazies they so despise. The religious crazies are driven by an unquestioned assumption that they are right; the lefties, on the other hand, are open to reason and self-doubt and self-examination.
They are?
Has Sullivan ever expressed any doubt on his religious conviction that gays should be allowed to be married? No, he has not. In fact, he's actually justified his position on religious moral grounds.
Has Sullivan ever allowed for the possibility that coercive interrogations may be a necessary semi-evil in the War on Terror? No, he has not. In fact, he's frequently justifies his position on religious moral grounds.
His current jihad has every third post damning religious Christians for failing to live up to Jesus' well-known injunction that Muslim terrorists should not be coercively interrogated to save innocent lives. One recent post parodies "What Would Jesus Do?" to "Who Would Jesus Torture?"
Has Sullivan even deigned to mention Brian Ross' bombshell that even CIA agents opposed to coercive interrogations admit it is 100% effective and has saved lives? Of course not. Sullivan's argument is based on quasi-religious dogma that "coercion never works" and he will not allow this article of faith to be impugned by something as petty as "the facts." Further, he'll deny his readership any direct link to the story, in order to insulate them against the blasphemy of doubt it might cause.
Hedrik Hertzberg trotted out this claim years ago in The New Yorker, displaying not a single self-doubt or reservation in 2000 some words that he and his allies on the left were anything but 100% right on every single issue in American politics.
If the left wants to claim these vast resources of self-reflection and self-examination, they really ought to be required to demonstrate some of it once in a while.
Unrelated Item Bonus Update: Mr. Green Helmet makes it to the UN's General Assembly.
Lebaonon's President displayed this photo for the delegates:
...which is a photo of Mr. Green Helmet parading a corpse, as usual.
This was the next photo he showed: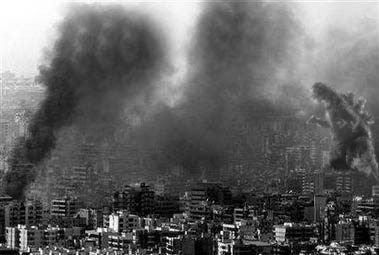 Pic courtesy of Slublog.
Correction: In a rush, I wrote that Mr. Green Helmet was at the podium. He wasn't. The picture displayed is of Mr. Green Helmet.