« Let's Not Lose This Election And Say We Did, Mmmkay?
|
Main
|
Five O'Clock Flashback »
September 18, 2006
Titgate Enters Its Second Week
Or at least its second calender week.
This is possibly the stupidest left-right blogwar yet. This is even too stupid for me to care about, and that's saying something.
The whole thing reminds me of idiotic chatroom "That's not what I said/Yes you did" arguments. They all work the same way: Person A says something. Person B reads into that the most uncharitable interpretation possible, and slams Person A for saying something she didn't. Person A argues that's not what she said; Person B insists she did.
The argument quickly moves away from any discussion about any live issues to a silly debate over who said what.
Anne Althouse snarked about Bill Clinton choosing the most Lewinsky-esque blogger at the all-white blogger panel as the chick he wanted placed right in front of the Little He. This was almost entirely a joke about Clinton's known horndogism. Feminsting complained she was being judged on her looks, which wasn't really true; Althouse was snarking about Clinton judging her on her looks, and wasn't judging Femisting's looks (at least not initially). (It should be noted that as Feministing pens high-minded posts like "Why I Don't Fuck Republicans," judging her on her looks seems the most charitable method of judging her.)
From there it spiraled into further stupidity, with a rather silly argument all around about who was more faithful to feminist principles that no one on either side really believes. To wit, that no one should even notice that someone has a pretty nice set of mommysacs, even if that particular someone seems to not generally mind if a political correligionists thinks they're just swell.
And it continues. I have no idea why. But everyone is linking this idiotic argument and commenting on it.
An idiot I used to know from Slate's The Fray chatroom -- and a past-master of the moronic "Yes you did say that/No I didn't" style of public discourse -- takes a rather obviously ironic quote of mine and claims I meant something I didn't.
My quote? I posted a dishy picture of Jill from Femiste (a different blogger than Jessica from Femisting), stating I just wanted everyone to be able to keep track of "the hussies" in the debate. The idiot Orcinus then quotes me:
[Orcinus:] Then, of course, there are the troglodytes on the right blogosphere (like this pathetic example of masculinity) who chimed in thus:

[Quoting Ace:] That's right, I said "hussy." Wearin' lipstick. Smiling.

Like a whore.
Excuse me-- precisely how much more obviously did I need to signal my intent was ironic, and that I was just posting the pic because she's a cute chick?
Does Orcinus really believe that I believe that "wearin' lipstick" and "smiling" makes one a whore? (The apostrophe at the end of "wearin'" was kind of a tip-off itself.)
Does he actually believe that anyone has used the term "hussy" in a non-ironic fashion since 1958? Who says hussy anyomre? No one does, that's who. That's why it's a funny word.
Of course he doesn't believe any of these things, or else he's more dreadfully stupid than I could imagine (and, to paraphrase Han Solo, I can imagine quite a lot of stupidity on his part). It's just an excuse to get his own little payback for six year old chat-feud and, perhaps, get a link from Atrios or Kos.
Somehow The InstaWife (Dr. Helen) seems to have been drawn into the whole debacle of decolletage, with leftwing commenters going on and on about her breasts.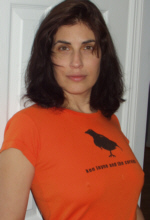 And not in a good way. Yes, one could go on and on about them at length, but the idiots at Sadly, No! aren't doing so in the obvious way, e.g., what a freakin' rack. Or: No wonder Instapundit pretends at times to be a semi-conservative. He's in the oppsosite situation of most men: He's got a smokin'-hot spouse who's more conservative than he is, and he needs to placate a bit.
(Contra Chris Klein, sometimes one does need to placate.)
Although I think this affair is stupid all ways around, I have to say the left is being stupider. They're blowing up a bit of snark into their favorite meme of "Republicans hate vaginas, and aren't too crazy about breasts, either."
You got us. We're all so afraid of "girl parts" we fall into epliptic seizures when confronted by them. That's a conservative's idea of foreplay.
I don't even get what the left is claiming. One one hand, conservatives only apparently value women for their sexual desirability. But simultaneously they advance the claim that we're all so sexually repressed and woman-hating that we throw conniptions of outrage if we see the outline of a breast (or, Heaven forfend, full-on camel-toe). Which is it? It seems to me that they can't both be true at the same time.
They also make another pair of contradictory claims at the same time-- that the're hip and pro-sex to enjoy a little boobage, and also that they're too enlightened to use sexuality to advance themselves, or take positive notice of someone else's use of their sexuality to advance themselves. Again: Which is it?
Although the right is guilty of giving this whole argument much, much more attention than it deserves, at least the complaints make some kind of sense from a standpoint of logical consistency. (Though I don't see the sense of arguing that feminists should never meet with Clinton. This may make good sense to conservatives, but to liberals, it's an unnaceptable premise. Not wrong: Unacceptable. Liberals will never even countenance suggestions like this, so it seems silly to argue this premise to liberals.)
Ali Bubba covers the argument with the appropriate level of seriousness, i.e., none at all.
I'm not sure what anyone on the left is actually arguing, so I have trouble responding to them. If they'll just tell me, clearly, whether I'm a sexist masher/online groper who sees women only in terms of their genitals and tits, I can respond to that, or, alternately, if I'm a reactionary sexual prude who falls faint at the sight of a nipple, I can respond to that as well.
But I really need to know what I'm charged with, first.
BTW: Can anyone really claim they're not talking about this story just as a way to 1) reel off exceedingly easy-to-write partisan bash-posts and thus please the most red-meat-cravin' true-beleivin' readers; 2) talk about jugs in a socially acceptable fasion; and 3) troll for links by bigger blogs?
That's the only reason I'm writing about it. Anyone else want to claim higher motives?
The involved parties have another motive -- actual skin-in-the-game, wanting to win a heated argument they're actually invested in, etc. -- but what about the 99% of bloggers who aren't instant parties to this dispute?
Does Orcinus claim to really be advancing the cause of feminism, I wonder?
Well, he does, I'm sure. He's always been such a self-righteous, self-deluded little prick.

posted by Ace at
03:12 PM
|
Access Comments