« Montreal Shooter a Columbine Freak
|
Main
|
Amnesty International Accuses Hezbollah of War Crimes Against Israelis »
September 14, 2006
Online Communities And Incitement To Murder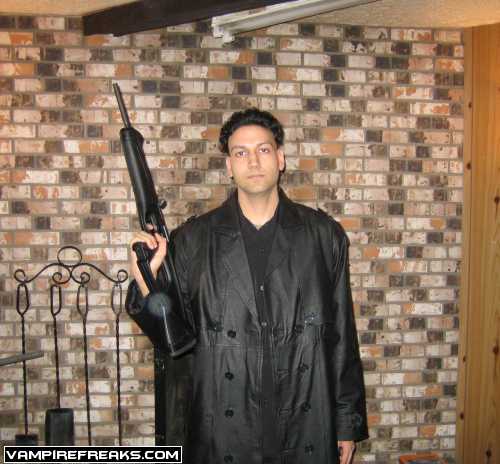 I keep slamming DU'ers (as well as righties) for suggesting that violence may be a good idea.
Kimveer Gill is a good illustration of the danger of that.
Online communities attract a large number of similarly-minded people. And, generally, they're passionate about whatever it is the online community is about. You don't bother to spend four hours a week in a model airplane site unless you're pretty serious about model airplanes.
It's the same with political sites, of course. No one here is apolitical, and few are true "moderates." (Even those posters who are "moderates" overall must be fairly passionate about the War on Terror, etc., to be here. Otherwise, why bother with this site as opposed to some other?)
Certain freaks are self-starters when it comes to killing people. Others require a bit of moral support from whatever community will have them.
These Goth guys frequently gave this asshole good feedback for his disturbing, disturbed postings. I don't imagine they took it seriously; they probably imagined all the talk of killing was, as it was for most Goth idiots, just a pose to seem kewl.
But it wasn't, and Gill seems to have taken that positive feedback seriously.
This jerkoff loser had fantasies about becoming a hero if he killed his "oppressors." No, he certainly didn't have any fantasies about general society lionizing him. But he hated general society, and could give a shit about their opinions on the matter.
What was important to him was what the Goth/"VampireFreaks" community thought about him. And, based upon their positive feedback to his constant declarations he was going to kill someone, he went out and did in fact kill someone, and shoot up a school.
Again, I don't want to say the VampireFreaks community took him very seriously.
But that's the trouble with encouraging statements about killing people-- you never know who out there is actually kind of serious about it, and who may just decide to go through with a shooting spree -- or political assassination -- based on your "Yeah! That's the ticket!" encouragements.
The political left has been especially egregious about offering this sort of irresponsible, dangerous moral support to the various nutters among them who hint (or speak directly) of killing political figures they don't like.
Take note.
Would Kimveer Gill have been deterred if the communty whose opinion he respected, and whose acceptance he craved, had spoken bluntly to him and told him to stop with all the asshole murder-talk? Would he have been dissuaded had he realized he would not be hailed as the Vampire Goth Conquerer, but rather reviled as a loser spree-killer, even by the community whose opinion mattered to him?
We don't know. Because no one bothered to say anything negative about it. So we don't know if he was a determined, self-motivated psychopath or a less motivated one who needed the encouragement of his chosen peers.
But, again, one never does know.
The DU'ers and Table Talkers and Huffington Posters and IndyMedia'ers should scold the next sociopathic loser who calls for the death of the President, but of course they won't.
Because liberals are peaceful. All of them. Even the crazy ones.
And of course because many of them don't mind giving a bit of encouragement to a would-be assassin.
If someone says they might commit suicide, you do not encourage them.
That rule applies tenfold for talk of murder and assassinations.
The hard left is now more or less openly agitating for the assassination of President Bush, and the media -- which does still retain some of its old power as arbiter of mainstream, acceptable political thought in this country, and still can shame those well outside of it -- says nothing.
And if an assassin should happen to attempt to take the President's life-- will they speak up even then? Or will they attempt, even then, to deflect their responsibility by ignoring the subject entirely?
I know one thing. When Jesse Helms suggested, thuggishly, that President Clinton might not be safe in his home state, the media reacted with the proper amount of outrage.
Now we have a film glorifying the murder of the President, and sold-out crowds jacking themselves off to the political pornography, and the media are as quiet as churchmice.

Thanks to dk for the photo.
Compare And Contrast: Just as no one would get the idea of killing a cop from a song called "Cop Killer:"
But Range said he did not believe the film glorified the president's death.

"I think the film makes it clear it would really be a horrific event," he told the Associated Press news agency.

"I really don't think that anyone would get the idea of assassinating Bush from this film."

...

The film was shown to a sell-out crowd at the Toronto Film Festival, who applauded at the end of the screening and several times during a question and answer session with the producers.

"It seemed very real," said audience member Linda Walsh. "I found myself mesmerised."
No, they wouldn't get the idea of kiillng the President from the film.
Many already have the idea.
What they'll get is the necessary moral support and not-so-subtle encouragement.

posted by Ace at
11:11 AM
|
Access Comments