« A Gaffe from Arnold -- Michael
|
Main
|
2006 Democratic Soft Spots »
September 09, 2006
Mourning in India -- Michael
I'm convinced that India could be one of the greatest nations on the planet.
Except for this: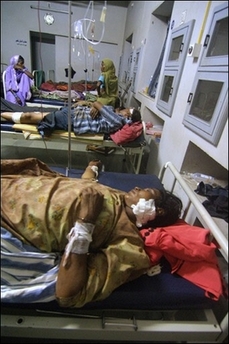 We all rejoiced at the end of the Cold War. But it seems as if the demise of Communism unleashed the demons of ethnic and religious hatred all over the globe. From Bosnia-Herzegovina to Sudan to Iraq to Rwanda to Indonesia to Thailand to North Ossetia to the the slums of France and the World Trade Center, the carnage has been incessant.
by Sebastian D'Souza

11 minutes ago

MALEGAON, India (AFP) - Relatives have buried their dead after three bombs outside a mosque and graveyard killed 37 people and injured more than 50 in the latest sectarian attack to rock India.

The blasts targeted Muslim worshippers leaving the mosque in the religiously-divided town of Malegaon in western India, the scene of previous clashes between Hindus and Muslims.

Political leaders appealed for calm as Muslims kept an overnight vigil on Shab-e-Barat, the Night of Blessing, when ancestors are remembered and prayers offered at their graves.
The mosque bombings may have been retaliatory:
The attacks came two months after seven bombs, believed to have targeted Hindus, ripped through train carriages in Mumbai killing 186 in an attack blamed on Islamic militants.
Sure, stuff like this happened 20 or 30 years ago. I remember the Nigerian civil war and the endless conflict in Ethiopia between the Christian south and the Muslim north in Eritrea. But it has become an epidemic. And you can't just point the finger at Islam. Islam is not responsible for atrocities committed by Serbian Christians or Indian Hindus.
What the hell is going on?
Relatives bury the dead after Indian mosque bombing

posted by Ace at
12:36 AM
|
Access Comments