« The Official Innocent Bystanders Theme Song -- Michael
|
Main
|
"The Path To 9/11:" Hollywood Blows It? »
September 07, 2006
"Gob-Smacking"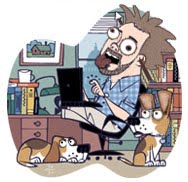 This is the Rove gambit: make this election a choice between legalizing torture or enabling the murderers of 9/11 to escape justice. The timing is deliberate; the exploitation of 9/11 gob-smacking; the cynicism fathomless. There is only one response: call them on it and vote for their opponents in November.
There does seem to be another response that escapes the Hysterical One.
The choice isn't between legalizing torture and letting the terrorists escape. First of all, Bush isn't quite asking for a legalization of torture. He's asking for specific interrogation techniques to be specifically made illegal. Which is of course a problem for liberals. Sullivan is fond of confounding techniques such as smearing red ink fake-menstrual-blood on a detainee in order to break him psychologically with actual torture. He's also on record as being against putting detainees in cold, uncomfortable cells and depriving them of sleep. Again and again, he conflates such techniques with "torture" and mentions them in the same breath as alleged killings of detainees.
Bush wants clear guidelines. Sullivan is of course against that-- as are all Democrats, and John McCain -- because they want belly-slapping and arm-twisting and even chest-poking to be illegal, but they know damn well the public is not going to vote in favor of such a prohibition.
Sullivan accuses Bush of lying (though he's too busy to be bothered listing his lies at the moment; he promises to list them as soon as he has time, i.e., as soon Glenn Greenwald does this work for him).
But it's Sullivan who is dishonestly conflating these practices with torture, and it's Sullivan who resists putting clear guidlines to a public vote, so that he can get the Terrorist Bill of Rights he likes enacted covertly under vague laws against "torture" that all the anti-torture proponents refuse to clarify. That seems like lying to me.
Further, the choice isn't between coercive methods and letting these guys escape justice. The liberals could, if they wanted, push for legislation that forbids any sort of rough treatment whatsoever and/or gives the terrorists full US civilian trials and full US citizen criminal defendant rights and thus brings them to trial and "justice" eventually.
The problem is that they haven't the guts to do so. Not because Bush will free the terrorists if they push for such legislation. But because such legislation will be perceived, rightly, as soft on terrorism, overly concerned with terrorist murderers' well-being, and contrary to the security interests of law-abiding American citizens.
They could do all of this. They just won't. At least no one who's not in an election-proof seat like Barney Frank or Ted Kennedy won't. Not because this will result in terrorists being immediately freed (though they may well be freed by a civilian criminal court), but because it will result in their own electoral misfortune.
Once again the liberals are angry that, as an election approaches, Bush actually demands that liberals vote upon matters of important national concern. They would prefer to be vague on these matters; Bush demands a debate and a vote.
Why liberals imagine that the only topics worty of discussion during election years are abortion, health care, and Bush=Hitler is beyond me. But O Lord do they scream when they're asked to vote on a matter in which they'd rather conceal their views from the public.
They always claim that it's not right that such matters should be debated and voted on "in the heat of an election campaign." Why, precisely, is that? Why is it that important matters should be put off until after they've been safely re-elected and have a couple of years (or six years) free from repudiation by the voters?
Isn't this the perfect time to vote on such matters? Is this not a representative democracy? Does that term not include the words "represent" and "democracy" in it?
I'm amused that Andrew Sullivan is offended, appalled, shocked, chagrined and in all other ways extremely put out to find that there are politics going on in a political democracy. The problem is, of course, that Sullivan and liberals prefer a system in which liberals are simply elected for life, immunized and insulated against rejection by the public, and thus free to "vote their conscences" in perpetuity without any fear of adverse popular reaction.
That's not democracy. That's a liberal fantasy of Socrates' "Philospher King" sysem of government. It's ironic that many who are so loudly anti-"theocracy" are essentially supporters of government by an unelected clergy of the elite.

More gob-smacking goodness from Protein Wisdom.


posted by Ace at
10:00 AM
|
Access Comments