« Hollywood Cool: 84 Celebs Sign Statement Against Terrorism
|
Main
|
Lieberman Leads Lamont 49 To 38 »
August 16, 2006
John Karr's Online Resume
For real, I think, unless someone's put up a quick fakey.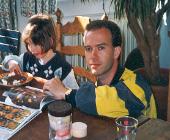 Probable cause right there, again.
The rest of the resume, assuming it's genuine, is copied below the fold, for whatever it's worth. I don't think that server is going to hold out for long.

Thanks to SarahW of Blue Merle.
Update: Dan Riehl thinks the resume reads like a world tour of child exploitation. I don't know. I don't see a lot of countries that raise a lot of flags to me.
Bachelor of Science: Magna Cum Laude, Regents College, Albany New York USA
Mission: To provide excellence in education that develops academic and technological skills, instills strong values of
superior character, develops interpersonal skills and nurtures leadership qualities amongst students to prepare
them for a successful future with the expectation that such an education will result in a student of superior poise.
Experience and Qualifications:
La Esperanza School (Honduras, Central America) 2004-2005 as follows:
Grade 2 Homeroom Teacher - (LES 2004-2005) self-contained grade two classroom. I taught all subjects -
Language, Reading, Math, Spelling, Social Studies, Health, Art, Music, Physical Education, Computer Technology
and Agriculture. I prepared weekly lesson plans, created weekly teacher-made examinations, and recorded grades
every six weeks in student report cards.
Computer Technology Teacher - (LES 2004-2005) (Grades 1 through 8) Upper grades designed presentations and
created documents, based on themes, in Microsoft Office Suite XP. Lower grades learned English through
interactive language software. I maintained all computers in the lab including hardware and software upgrades and
repairs.
Director of English - (LES 2004-2005) in charge of recruting new teachers of English. Duties included teacher
mentoring and advisement; monitoring teachers in the classroom; collecting and checking lessons plans of all
English teachers; curriculum development including selection of books and materials in the area of English, Math,
Science and Social Studies; and schedule development for all subjects taught in English.
Librarian - (LES 2004-2005) Designed and maintained a small library with literature in English for grades 1 through
8. Book check-out and retrieval for students. Organization and presentation of books and media such as television,
VCR and DVD player, etc. Storytime for grades 1 through 3.
-Teacher of English (Costa Rica): Pro English: English instruction for corporate executive clients in the San Jose,
Costa Rica area.
-Private Teacher / Caregiver (2002-03 in Western Europe) as follows:
Germany: Three girls - 7, 11, and 12: I taught English to the girls through conversational and instructional methods.
I gave computer instruction to the girls via their laptop PC's. I drove the girls to their activities: ballet, riding,
handball, etc. I assisted the girls with their homework.
Germany: Two girls - 5 and 8; boy 10: I taught English to the children through conversational and instructional
methods. I awoke the children in the morning and gave them breakfast. I helped the children get ready for school
and escorted them to the school bus. I helped the 8 year old girl with her homework each day. I took the children
outside for play. At days end, I made sure the children had their evening bath, then put them to bed and read to
them before they went to sleep.
Netherlands: Baby girl 9 months, boy 3, and girl 4: I taught English to the three year old boy and four year old girl,
through conversational and instructional methods. I was very attentive to needs of the baby which included
changing, feeding, and bathing her. I helped the baby when she learned to walk at 10 and a half months. I fostered
independence in the children's activities.
-Teacher of English (2001-2002 Asia and Western Europe) as follows:
Seoul, Korea: I was a classroom teacher of English for children aged 6 to 12. Duties included planning lessons,
conducting classes as the sole teacher in the classroom, making assignments, and issuing grades. I taught 22
classes per week. The classes were 45 minutes in duration with an average class size of 18.
Heemstede, Netherlands: I volunteered as an English teacher at an atheneum school, planning and conducting
activities revolving around English and the U.S. culture.
-Primary School Teacher (1996-2001 and Currently) in some of the most prestigious schools in the United States,
working with children from high profile families. I have taught all classes to elementary students including English,
Math, Science, Reading, Social Studies, History, and Computer Technology. I have taught Physical Education with
large groups of 100 to 150 students, ages 5 to 10. I have worked with large groups of children in school plays.
-Private English, Reading and Math Tutor (1996-2001) for elementary students ages 8 to 12 on a private basis for
an hourly rate.
-Computer Instruction (1998-1999) for children in primary school and adults in community college. Instruction for
adults including Microsoft Word, Powerpoint, and Internet, using mostly the Windows PC environment but also
including the Macintosh operating system.
-Computer Technology Proficiency (1996-2004) creation of PC's from the ground up. Hardware/Software upgrades
and diagnostics. HTML web design creating mailtos,
metatags, html links and overall artistic design.
-Real estate (1981-1996) Privately owned rental business. Restoration of mansions from the Queen Victoria Era.
-Interests and Abilities: ability to read music and play several musical instruments; singer/songwriter; writer of poetry
and articles; acting.
-World Travelled: London, Paris, Amsterdam, Zurich, Milan, Bologna, Stuttgart, Munich, Sydney Australia, Taipei,
Singapore, Seoul Korea, Osaka Japan, Istanbul, Reunion Island off the coast of Madagascar, Atlanta, Dallas, Los
Angeles, San Francisco, and a host of other cities in the United States.


posted by Ace at
09:23 PM
|
Access Comments