« Go To Bed, Ace -- Michael
|
Main
|
I Can't Fight This Feeling -- Michael »
August 01, 2006
If You Think I Went Overboard On GG...
...you really have to check out the Gospel of St. Andrew of the Sacred Heart-Ache, whose every second post is about the gob-smacking vileness of Mel Gibson and the "Christianist right" and their "theocon agenda" (and also the apparently stealth-antisemite conservative Jews who have made an alliance with same).
I suppose he's entitled to an I-Was-Right-You-Were-Wrong victory lap. I'm hardly above that myself. Not by a long shot.
But one lasting three days long and counting?
Further, I'm not sure, completely, how right he was. While Charles Krauthammer had something of a point in noting that Satan usually seems to be intermixed with Jews in The Passion, it's sort of difficult to film the story of Christ's crucifixion without noting the presence of the Jews at some point. It's not as if, in order to make the story less offensive, you can set Christ's life in the milleu of Hollywood's recent favorite non-complaining ethnic heavies, the Serbs. Just as you couldn't avoid offending Egyptians by filming the story of Exodus with Moses leading his people away from the evil clutches of Hans Gruber and his dozen German mercenary henchmen.
The Bible kinda defines the term "canonical."
There is an inherent problem of political incorrectness, impossible to finesse, in any film about Christ's life, and of course he's death. There's really no good way to avoid some people taking it the wrong way-- blaming the Jews, etc.
Further, Sullivan spent 90% of his time, if I recall correctly, screaming about the masochism of the film, not its antisemitism. I tend to agree that, as regards the violence, there was too much of it, but I say that not from a prudish point of view but from a cinematic one: the repetitiveness of the violence tended to take me out of the movie, and remind me I was in fact watching a movie. Still, it was an artistic choice, and an easily defended one, if one wanted, as Gibson apparently did, to highlight the human suffering borne by Jesus in order to display the greatness of His deed.
Didn't work for me. It did seem to work for others. And so it goes.
I just seem to remember Sullivan's attack being chiefly about the goriness of the film, and its supposed sexualization and fetishization of agony and torture, rather than about its supposed antisemitism. I could be wrong, but to the extent Sullivan wrote on the antisemitic tip, it seemed, as so much of Sullivan's hyperbolic sort of rhetoric is, opportunistic.
At any rate, Sullivan is one of his more fulsome of many (many, many) recent freak-outs. Gibson deserves to be castigated for his virulent anti-semitism, and booze is hardly a defense, and I've so castigated him, and confessed error in previously giving him the benefit of the doubt (despite somewhat sketchy answers to questions about the Holocaust), as have most others. And yet Sullivan continues hitting the story every other post not to advance it at all but to simply say, again and again, "See? I was right!"
That's not really blogging about political events; that's purely personal score-settling. Again, sure, I wouldn't begrudge him some crowing; but honestly, at some point it has to stop.
Hat tip to The Malcontent, who writes:
Sullivan despised the Passion of the Christ. In his months-long railing against the film, we saw the first blurry outlines of his torture philosophy that would spring forth and devour whole his writing and thinking. Like the movie, dislike the movie. It's to every individual's taste. I thought it was ok. ....

And yet, Sullivan hated it, and now off he goes on another personal jihad that seems far more wrapped up in his personal religious and philosophical issues than anything else. We're probably lucky Gibson didn't kill himself while driving under the influence, lest we be subjected to a week-long festival where Andrew pisses all over his grave (see: Lay, Ken).

Sullivan a great gay conservative writer and thinker? Nope. Just an increasingly unhinged asshole, and he reveals it more and more with each passing day.
I never thought I'd ever, ever write these words, but Sullivan has somehow managed to coax them from my fingertips:
Dude, get a grip. As noxious as Gibson's comments were, this story is not as important as Abu Ghraib.
By the way, St. Andrew of the Sacred Heart-Ache seems to have a habit of posting stuff without attribution or hat-tip that showed up on other people's blogs a few days before. Except if it's one of his bosom chums, like, ahem, you know who.
It's very possible that Sullivan just gets this stuff in emails; but then, why no hat-tip to the emailer? As the Malcontent is a gay conservative writer who frequently slams on St. Andrew, I'm curious if he got this YouTube video from the Malcontent, who posted it two days before him.
The thing is, no knock on Malcontent, but it's only eh amusing, so I'm just wondering how it could have become such a must-see email-blast viral video as to have caught Sullivan's attention independently.
Forgive my suspicions, but this seems to happen a lot.
Sullivan is one of the worst bloggers out there when it comes to hat-tips and links. I get a lot of links sent to me, but if the author includes a hat-tip himself, I'll almost always hat-tip to the tipster's actual source. Does St. Andrew do the same?
I don't know. Sure doesn't seem like it. Apparently, unlike every other blogger on the Internet, Sullivan gets almost all of his tips independently... or from Belgravia Dispatch or Glenn Greenwald.

Why Not? Seems as good a time as any to repost Allah's greatest photoshop, evah: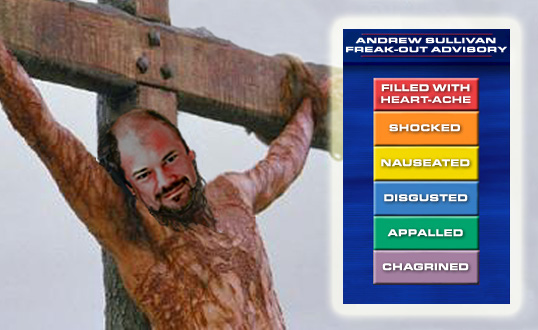 Can we add a color beyond the red? Is infrared a color?

Update: If St. Andrew of the Sacred Heart-Ache wants to be a moral arbiter on anti-semitic remarks, it really would behoove him to follow his own advice and stop constantly slandering "Christianists."
I really don't think Gibson's and Sullivan's comments are quite equivalent. They're not related so closely they couldn't get married, but they do share common blood.


posted by Ace at
12:03 AM
|
Access Comments