« Tick-Tock: The Unmasking Of The Jacklegged Information Super-Highwayman "Ellison"
|
Main
|
Overheard In Glenn Greenwald's Over-Crowded Flop-House Of Left-Wing Chums »
July 20, 2006
We've Been Waiting For You, Mr. Anderson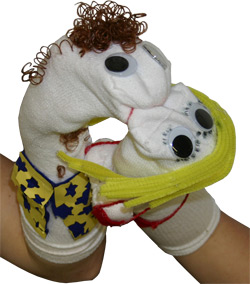 Sock-Puppets in Love
SOCK PUPPETRY. PREENING VANITY.
THE MAKING OF AN INTERNET LAUGHINGSTOCK.
SOME ASSEMBLY REQUIRED.
Thanks to, I think, the Bumperstickerist for that. If my h/t is wrong, forgive me. I was ready to pass out at 11 last night but couldn't fall asleep and then this hit at 2 and then I was up until 7:30 -- yes, seven-thirty -- fixing stuff and editing and deleting the last two digits of the IP. Sounds simple to most of you, but I honestly have no technical skills at all.
I am a zombie.
More Photo Phunnies: Good, good stuff.
Compelling. And rich.
And Still More... Jennifer "Ellison" Garner stars in Alias.
Ooooohhh... stings the nostrils.


posted by Ace at
02:47 PM
|
Access Comments