« Scientists Discover Another Lower-Order Animal With Human-Like Teeth
|
Main
|
My Pet Jawa, Many Others Banned In India For Offending Muslims »
July 19, 2006
A Little Ginger To Cleanse The Palette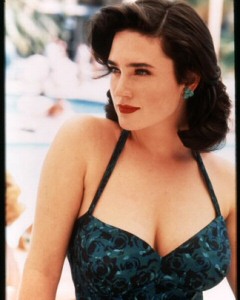 Jennifer Connelly, before she decided to shed all that "ungainly baby fat," also known as "her beautiful enormous funbags."
I think that's from Mulholland Falls, also known as The Movie Where You Fast-Forward Through Nick Nolte And Chaz Palmenterri For A Half Hour, See Connelly Naked, And Then Immediately Turn The Film Off and Watch SportsCenter.
Has anyone ever actually watched that film, except to see Connelly naked? I think it's the movie where the four cops are called, I shit you not, "The Hat Squad." I'd've loved to hear the pitch-meeting for this piece of shit.
SCREENWRITER: See, they're these four tough cops. Edgy. Unforgettable.
PRODUCER: What makes them so unforgettable?
SCREENWRITER: Well, see, they're called "The Hat Squad," because, get this, they all wear hats. Fedoras and stuff.
PRODUCER: I love it! So it's a modern-day noir in which the characters dress like throwback s fromthe forties and fifties!
SCREENWRITER: Well, no, it's actually set in the late 1940's.
PRODUCER: Then why are they called "The Hat Squad"?
SCREENWRITER: Because they wear hats. I thought I mentioned that.
PRODUCER: But everyone wore hats then. Why not just call them "The Socks Squad" ?
SCREENWRITER: Well, I don't know if they all wear socks, necessarily. I haven't finished the script. I haven't fully realized each of the characters vis a vis his socks-wearing preferences.
PRODUCER: Okay, well then "The Pants Squad." I imagine they all wear pants. It's just that-- in the late forties, everyone wore hats. So calling them "The Hat Squad" is kinda stupid. It's like calling them "The Guys Who Are Pretty Much Like Everyone Else."
SCREENWRITER: But hats are cool.
PRODUCER: Well, I don't know. I think I'm going to have to pass.
SCREENWRITER: I have a friend who talked to Jennifer Connelly and she says she's willing to appear nude in it.
PRODUCER: Oh. Ohhhhhh. I see. Hang on, I'll get financing rolling on this.
SCREENWRITER: I'd like Nick Nolte as one of the guys in the hats.
PRODUCER (on the phone now): It really doesn't matter. I don't care if it stars Gallagher and three of his watermelons.
SCREENWRITER: I think Nolte would bring a weary authenticity to the role that, ummm, Gallagher wouldn't.
PRODUCUER (shrugging): Either/or. If we can't get Nolte or Gallagher, we could get, oh, I don't know, the Robot from Lost in Space.
SCREENWRITER: I'm not sure you could fit a hat on that robot.
PRODUCER: Let's let Wardrobe do their jobs, huh, Shakespeare? You just worry about finishing this amazing script, Jennifer Connelly's Big Fat Naked Lovepumpkins.
SCREENWRITER: Mulholland Falls.
PRODUCER: That's good too. A little over-subtle, but still good.

posted by Ace at
04:21 PM
|
Access Comments