« Terrorist Claim: "America Stuck A Butt Plug In Me!"
|
Main
|
Ethan Dorff: American Men Must Rethink Their Notions Of Masculinity »
July 08, 2006
Atrios Thread
Yeah, yeah, another open thread.
Finally, Some Props For Kristin Davis: Voted the most beautiful woman in the world by readers of UK's Daily Mail. I think she's more heartbreakingly cute than actually beautiful, but that's just quibbling.
And then there's Lisa Baur, who never got her props.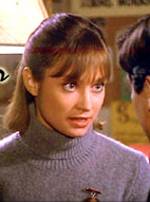 Lisa Baur, playing "Shelley Dubowski"
in Animal House
And yeah... she looks pretty good without the sweater, too.
This woman was in one movie, and has one other credit on IMDB.
How that happened, I don't know. I guess someone snapped her up and she didn't have to work anymore.
I've got these dumb economic stories I've been sitting on all day because of this stupid Frisch thing. I think Lisa Baur will be the new Cowbell Girl.

posted by Ace at
09:26 PM
|
Access Comments