« Still More Kosola
|
Main
|
Kos: I Am Absolutely Innocent Of The Charges No One Is Levelling At Me »
June 20, 2006
Ministry of Silly Links
Muslim commedians on the "Allah Made Me Funny" comedy tour.
No, seriously.
One guy's joke? "Muslims around the world would stop hating America, if Americans would stop killing them."
BAH-zinnngggg!
No, really, that's a joke. Preaching to the recruited, as it were.
Much better is the cast of Peanuts dancing to Outkast's Hey Ya.
And "Brokeback Zarqawi" (language advisory).
Thanks to MikeK and The Corner.
It Belongs In The Comedy Section Update: Andrew "I'm a Silly Bitch" Sullivan likens the torture and beheading of our servicemen to belly-slapping of Muslim terrorist detainees. And, yes, he suggests it's our fault. Muslims never tortured or beheaded anyone until Abu Ghraib.
I doubt whether even Donald Rumsfeld will describe what has been done to two young American soldiers as a "coercive interrogation technique." But you never know. Some people wonder why I remain so concerned about torture, and the surrender of our moral standing with respect to this unmitigated evil. Maybe the news of captured, tortured and murdered Americans will jog their conscience. Or maybe it will simply reinforce the logic of torture-reciprocity endorsed by Bush, Cheney, Rumsfeld and Gonzales. As usual, complete silence from Instapundit. Almost radio silence from the Corner, except for the torture-advocate, Mark Levin, who is urging reciprocal atrocities. Give him points for consistency. And so the cycle of depravity and defeat deepens ...
I like how, on the day two American servicemen are found tortured and beheaded like animals by Muslim terrorists, Sullivan thinks that Instapundit is supposed to join him in condemning American behavior.
It's not even that Sullivan regards this as an interesting notion that would only occur to a certified psychokinetic atomic fissionist like himself. No, he thinks this is so self-evident that it should have occurred to everyone.
Muslims torture and butcher Americans; ergo, obviously, one must condemn American "torture."
The link goes to Dan Riehl, by the way, not Andrew Sullivan, so don't be shy about clicking on it.
Thanks to someone for that.
Kos agrees. Kos and Sullivan are as tight as ticks lately, eh? (Thanks to Allah of Hot Air for that.

After the jump, the Andrew Sullivan Freak-Out Advisory makes a return.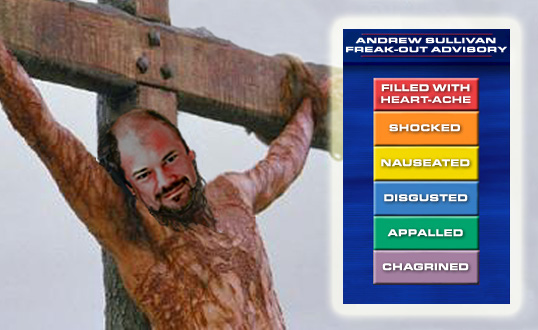 Thanks to Allah for that old 'shop.
Update: Slublog's disgusted.
I think maybe at this point the silly bitch just says crap like this to get the inevitable outrage-link-traffic.
I find it amusing that Instapundit didn't link to Sullivan, but rather to Dan Riehl.
I would suggest that everyone takes this tack.

posted by Ace at
06:53 PM
|
Access Comments