« That Shep Smith Report On The New Anti-RPG "Force Field"
|
Main
|
Actual Science Disputes Theory Of Man-Made Global Warming »
April 11, 2006
War & Robots (And Large Rabbits, and Monkeys Fighting Dogs)
Some good stuff:
A miniature robot designed this summer by a Carnegie Mellon University mechanical engineer has done what only bugs and Jesus Christ have done before -- walk on water.

A research team led by assistant professor Metin Sitti modeled the "Water Strider Robot" after insects that are found skimming on the surface of nearly every pond, river and lake.

"We have created a biologically inspired robot that can stay on water using the same principles of nature that real insects use," said Sitti, who heads the university's NanoRobotics Lab.

Although it's just a prototype now, the robot ultimately could be equipped with biochemical sensors that monitor water quality or deployed with cameras for spying or exploring hard-to-reach places, he said. It also could be programmed to communicate with a central computer or outfitted with bacteria that break down aquatic pollutants.
Or it could just be a prize in a cereal box. It sounds like he's straining to think of uses for this little gadget. Thanks to Pupster.
Bomb-sniffing robot searches for IED's. It even looks like a dog.
New Ultra AP (Armored Patrol) military vehicle may save soldiers' lives... later. Partly designed with the know-how of NASCAR mechanics and engineers, to make it a fast-mover.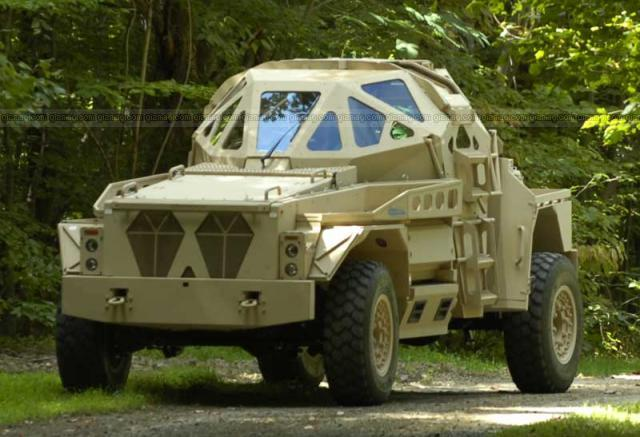 As Bruce Wayne asked, "Does it come in black?"
The ULTRA AP (Armored Patrol) Concept vehicle was created to investigate options for improving survivability and mobility in future military combat vehicles. On the mobility side of things, the designers naturally looked to high-output diesel power (the military has a one fuel policy) but also looked to high-performance automotive engineering practices by adding NASCAR race expertise to the team, along with the use of on-board computers to integrate steering, suspension and brakes. The protective aspects were enhanced by an innovative crew capsule created by a combination of lightweight composite armour materials, a commercial truck chassis, and faceted crew capsule geometries that provide better deflection of pressure waves from blasts compared to current configurations.
One of the NASCAR racecar mechanics was quoted as saying, "We hope to have this ready for production by 2007. But our progress is being slowed by Dateline NBC. They keep sending 'Muslim car-parts salesmen' to pester us."
Thanks for those two to JohnS.
About giant bunnies: Hell in a Handbasket has an even bigger one than the photo linked before. Apparently they're all of the "German giant" breed. People have been breeding these things to be evermore enormous just for bragging rights.
Finally, Craig sends this video of a dog fighting a monkey. It may be a set-up fight, or it may just have happened. Either way, neither animal seems to get hurt; neither one can figure out how to deal with the other's combat maneuvers.
It may be old. Still, a monkey fighting a dog. Gotta link it.

posted by Ace at
11:31 AM
|
Access Comments