« Sen. Ted Stevens (R-Alaska): Earmarks In No Need of Reform
|
Main
|
The Ultimate Cartoon of Mohammad »
February 02, 2006
A Hero is Remembered, 40 Years Later
This past Monday, Lt. Col. John A. Hopkins was awarded the Distinguished Flying Cross, for his actions during the Battle of the Ia Drang Valley, retold in the book We Were Soldiers Once... and Young, by Lt. Gen Hal Moore and (embedded journalist) UPI correspondent Joe Galloway, and again in the film We Were Soldiers starring Mel Gibson.
Hopkins received his commendation for flying a dangerous night mission on November 14, 1965 to resupply and evacuate wounded soldiers from (then) Lt. Col. Moore's 1st Battalion, 7th Cav. Regiment, who were engaged in the first major battle with North Vietnamese forces in the Vietnam War. They were outnumbered 9 to 1.
You can see the photograph of Col. Hopkins receiving his commendation here. Mouse over "media", scroll down to "news".
If you haven't read the book, I highly recommend it. If you haven't seen the film, several who were there, including Hopkins, say it is a faithful account.
I wondered, why was he recognized so long after the fight? 40 years. Then (in my local newspaper) I read Hopkins say "it was command's policy that we did not get medals. We wanted the focus on the soldiers on the ground who were taking enemy fire".
That policy changed in 2001, when Capt. Ed Freeman received the Medal of Honor.
And rightly so.
Hopkins took fire. He took risks, to save American lives. Without elaborating, when asked if he had other experiences during the war, he replied "I went down more than once". I'm really glad he was still here for his nation to say "thank you, well done".
Update: Commenter Tom would like to make sure we understand that Col. Hopkins service and valor doesn't mean shit when we faithfully consider the current American Hegemon.
Good to know Tom. Good to know.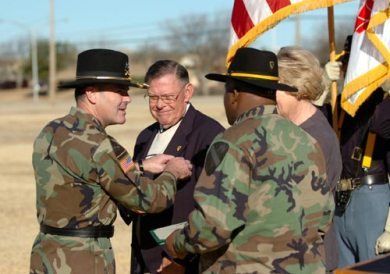 posted by Dave In Texas at
09:24 PM
|
Access Comments