« Only Funny Thing on SNL This Season
|
Main
|
Bin Ladin Book Gets Raves From Lefty Nitwitterati »
December 20, 2005
Tuesday Morning Bridge
This happy little span exists in West London, and is known, appropriately, as the Rolling Bridge: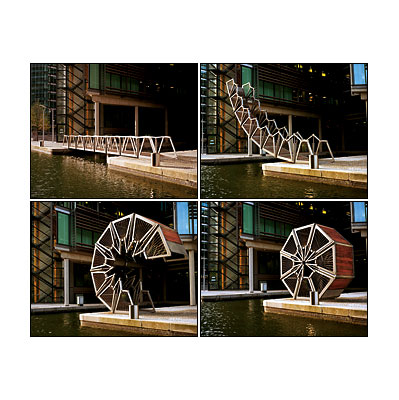 That's right, the bridge rolls up. Now what you got to say to that, sucka?
Yeah, that's what I thought. (A little info here. )
It's certainly novel. I do wonder, though, about the smoothness of its rolling action – whether it's a nice, fluid contraction or if it's all herky fits and bobbing pauses. As I'm a shallow man, this will greatly influence my opinion of it.
(h/t We Make Money Not Art which mentions the bridge in passing, concentrating instead on the architect's new walnut looking design for a Japanese Buddist temple. Crazy.)

posted by Dr. Reo Symes at
01:12 AM
|
Access Comments