« Air Marshall Fires On Person Claiming To Have A Bomb
|
Main
|
Bush Links December 7, 1941 With 9/11 »
December 07, 2005
An Open Letter to Dictators
Please, excuse me, but I feel that an open letter stands the best chance of making it past your cronies and yes men, those toadies too afraid to tell you what you need to hear.
Let me start off by asking you a simple question. What is wrong with this picture? (putting aside the checkered-head lunatic in the background)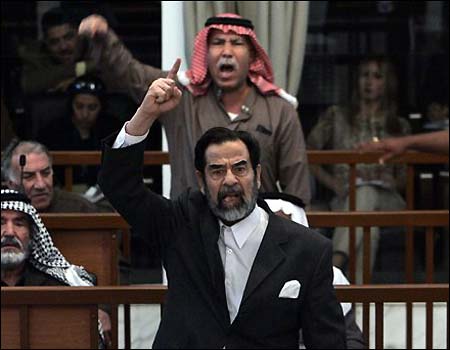 I'm sure some of you are saying "Well, it's obvious. Where's the tie?"
Sure, a dictator has to look good AND convey formality. But the casual look has its merits. Much like the software CEO who comes to work in jeans and a turtleneck, a causal look can signal you're above the rules. You're in control, but not uptight about it.

Also, the suit-no-tie is a clean look. Even if you're an old fuddy-duddy, think about it for casual Friday round the compound/palace. Just putting it out there as an option.
But that's not my beef. Try again.
"Aha, the medals! Where are the medals? Without mine, I'm naked."
True, but you can't really fault Saddam here. Captivity and all that. While I agree with the general sentiment that 'if you can't wear rows and rows of flashy gold medals, what the point of awarding yourself them anyway?' I would caution aginst excess. There comes, very early in the medals game, a point of diminishing returns.
But that's not it either. No. My beef is with the finger.
"The finger?" you ask. Yes, the finger. Or rather, it's elevation. Its placement. Nothing signals, "I am a ridiculous third-rate dictator" like the finger above the head. E.g:

You know who can pull off that look? Comic book super-villains and visitors from the future traveling with dire warnings we must change our ways. Forgive me, but regardless what your cronies tell you, you are neither.
"But, Hitler
.." Sure, we all remember the shots of Adolph mid-speech, finger above head. But that was a different age, one more receptive to dramatic gestures and "Fatherlands' and all that. Just more romance in the air. Men wore hats. We live in a different era, one where irony abounds, big-time.
T.V has changed everything. As with the Shakespearean stage-legend making the transition to film, the new medium cries to you 'less is more.' The gestures that were perfectly fine, even necessary, to convey fear to the back of the stadium are, on the intimacy of the small screen, overbroad, and, frankly, hammy.
But not just hammy. Crazy. They recall Frank Costazna (a character from an older U.S. sitcom given to irrational outburst.) And a 'Frank Costanza' does not rule nations.
Don't believe me? Try this simple test. Go to your children and forcefully say these words: "I am your father and I command you to clean your room!" The result: One clean room, coming right up.
Now wait two weeks, let the roomy dirty itself as is the course with children, and repeat those same words. This time, finger aloft. A clean room is not forthcoming. Giggles and eye-rolls are.
I am not kidding. Try it. (If you have no kids, thy this on some of your advisors. Get them liquored up first. Just remember, after they laugh, have them killed.)
Now why do you think the nation you have under your boot (just primed for a light-hearted chuckle at your expense) is gonna respond any differently?
A regime can withstand many things. Eye-rolling is not one of them.
So what's a dictator to do? A good rule of thumb, or should I say, rule of finger (ha, ha. little joke, there) is to keep your digits below ear level. Once the finger starts to creep above the top of the ear, the crazy starts to accumulate. Work at it. Practice in the mirror. Case in point: Kruschev.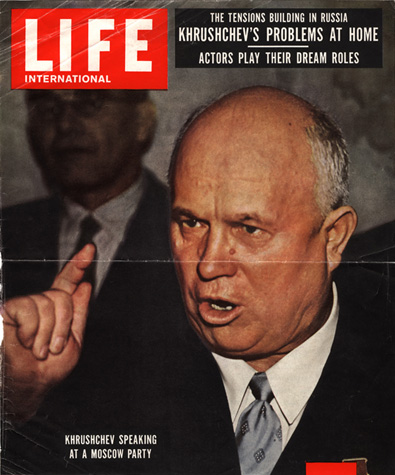 The message here? "I run a country with an iron fist and I AM NOT CRAZY!"
Someone needed to tell you.

posted by Dr. Reo Symes at
03:35 PM
|
Access Comments