« Sorry, Doofus, The Contest Is Over
|
Main
|
Margaret Cho Just Still Isn't Funny »
December 06, 2005
AllahPundit's Chris Klein Updates
Allah sends along...
75% of women agree with Katie Holmes' choice, and would rather kiss Tom Cruise than Chris Klein. I guess the women aren't in a placating mood.
Also from that story: 53% of women would rather kiss Owen Wilson than Luke (47%). My take: Why choose if you don't have to? I tell you, they should have named Bottle Rocket "Hot Toasty Delicious Wilson Brothers Sandwich."
I might have actually bothered to have seen it.
KLEIN (on working with Ryan Reynolds): This was a really cool opportunity for a couple of us actors to go out to the middle of nowhere, leave our egos at home and come to work everyday to make it the best we could. And I think we did.
Uh-huh. Something tells me this guy wouldn't leave his ego outside a bank vault.
You character goes through a significant transformation after high school. Have you ever reinvented yourself?

Yes, I became a complete fucking tool and a total fucking hump.
Okay, no, he didn't say that. Here's what he actually said:
I don't think it was as much of a reinvention as it was a growth. Growing up in high school, I was a bit of late bloomer, speaking pubescently.
Speaking pubescently.
Yes, indeed, I think we're right now speaking pubescently.
It took me a while to grow up and a lot of my buddies during that time surpassed me in physical prowess and all that sort of thing. I had braces; I was missing my front tooth. It was kind of disgraceful. But I turned it around, grew up, hit the weights. My voice finally dropped to an appropriate range. (laughs) And I moved on with my life.

Did you have any experiences in high school like your character did?

No, my experience was not like that. I was pretty darn popular in high school once I got the braces off.
If he does say so himself. But what about your hot senior girlfreind, Chris? Don't leave us hanging.
So you didn't spend a lot of time in the "friend zone"?

No, I did not. I had a pretty consistent girlfriend in high school and she absolutely didn't put me in the friend zone. It was the bed zone, but not the friend zone. (laughs)
Here we go. The thing is, yeah, I'm sure he got a lot of tail, and I resent him already for that. But does he have to go that extra asshole step and brag about it?
I'd tell him to look up the word "self-deprecation" or "humility," even if of the "feigned" variety, but he's already filled his pretty little head with the (approximate) meanings of "placate" and "disgraceful."
Here's a gem.
Have you ever been in a situation where you're competed with another guy over a girl?
Now, guess the answer. Close your eyes, let the sound of the crashing ocean breakers fill your mind, try to channel the essence, nay, the very zen of Chris Klein. What would he say to that-- if he's ever competed with another guy for a girl?
Got your answer? Good, let's see how you did.
No. I've never had much competition. I remember girls competing over me, which was very exciting, to say the least.
You get ONE POINT if you guessed he'd say NO, I NEVER HAD MUCH COMPETITION. You get THREE POINTS if you were so fucking scary-smart you realized he said GIRLS COMPETED FOR ME. Award yourself a bonus TWO POINTS for guessing he'd talk about how GREAT or "EXCITING" that was, and give yourself a run-the-table bonus of FOUR POINTS if you got it all.
Ten points total. How'd you do?
Any guy in here knows what I'm talking about.
Yep. That's right, Chris.
One more:
Would you pretend to cry for a girl?

Not for a girl. I don't think so.
Katie Holmes' ex, fellow actor Chris Klein wishes only good to his former fiancee Katie Holmes when she got engaged to and pregnant by Tom Cruise.

"I wish them luck. What Katie and I had was something very special. I hope that's what they have," Chris Klein said.

Tom Cruise wasn't the reason for his breakup with Katie Holmes, says Holmes' ex-fiance.

"Her being with Tom has nothing to do with her and I discontinuing our relationship," Chris Klein, 26, said in an interview to "Access Hollywood."

"People move forward, people move on, it's what we do," he added.

Dawson's Creek star Katie Holmes and Chris Klein, best known for his raunchy American Pie series, were a famously virginal couple for their five-year relationship.

Being a devoted Catholic, in interviews those days Katie Holmes said sex should wait until marriage.
Well, apparently devout Catholics believe sex should wait for marriage and/or Tom Cruise.
But that doesn't get "CK Money" down. No, sirree. What gets him down is the lack of "quality."
But Chris Klein is conspicuously single these days.

"It's hard to find quality around this town. That being said, I keep it to myself most of the time."
I think that's probably for the best.
"This life is a crazy one, and I get a lot of attention, and I get pressure from a lot of people, especially females, who don't understand. For me, it's about staying patient and being who I am."
Yes, they don't understand you, because you're pretty and rich and they want you to not be such a douche, but you really are total complete fucking douche-tool, and this is what causes that lack of understanding.
On the subject of on-set romances, Chris Klein said, "I've been doing this eight years and never once got together with a co-star. From an acting standpoint, as soon as you do, you lose edge. Will I stick to that now that I'm not engaged?" he asked, smiling. "Time will tell."
I love guys who ask themselves questions about whether or not theyr'e going to get some tail, smile at their own question, and then say "Time will tell."
Will I go down to Chris Klein's house and smash his ankles into twisted blood-bags with a carpet-hammer?
smiling
Time will tell. Time will tell.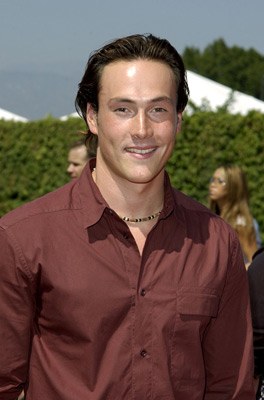 Seriously? Dude? You can still totally pull off that teenage-surfer bead-necklace. In absolutely no way do you look like a total fucking jackass.
Would your buddy Ace lie to you? Now go out there and give some more cringeworthy interviews, Killah.
Just like Derb said about women, Chris Klein is at peak attractiveness between the ages of 15 and 20 years old. As he ages, he will change, horribly, from "cute" to "weird-looking in a desperate, truckstop-stalker way."
I take great satisfaction in knowing that he'll be on the bottom rungs of the gay porn industry in ten years.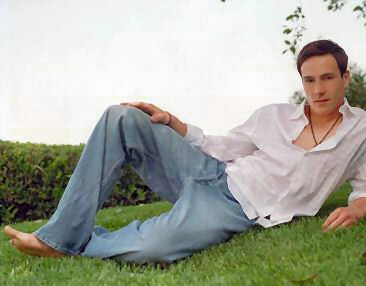 Make that five years.

posted by Ace at
02:57 AM
|
Access Comments